The Sawdust Festival is one of the most visited in Laguna Beach! Tourists from all over California come to see the art and inspiration from the Sawdust. The Sawdust is an annual art festival held till the end of June and August. Every year, the Sawdust has events such as the "Sawdust Winter Fantasy" festival, open from mid-November to December and open to the public. The Sawdust displays many art forms, such as paintings, sculptures, printmaking, photography, hand-made glass, ceramics, jewelry, woodwork, furniture, textiles, and clothing.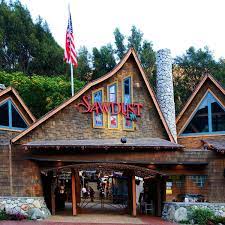 The residents of Laguna Beach get to attend the festival for a cheaper and more accessible price than tourists. The Sawdust gets an estimated amount of 20,000 visitors yearly as of 2014. The festival was founded in 1965 by a group of well-known hippies. It was initially named "The Rejects Festival" and held showings until 1967 when the nearby Laguna Beach Festival of Arts became juried. In 1968, the festival moved to its exhibit three-acre station on Laguna Canyon Road, across the street from the formed FOA. At this location, Sawdust artists started building wildly conceived, mostly wood-built quasi-dwellings that were big on the uncivilized theme, with no two similar. They additionally created a wooden, fort-like gate and spread sawdust and wood chips onto the naked ground. 
During the festivals' early days, people claimed it had a carnival-like atmosphere. People sparsely attended the festival in the beginning and there were a lot of religious fanatics and streakers amid the booths. Into the 1970s and 1980s, festival attendance sparked up to 350,000 attendees. It started to gain momentum in 1985, and the Sawdust spent $60,000 for a new front facade, a mock-up of the nearby Hotel Laguna, and three other infamous Laguna buildings. Later, Sawdust management erected a permanent Bavarian-style show. 
The festivals' Benevolence Fund, beginning in 1987, is a non-profit organization assisting artists residing in Laguna Beach who have suffered a catastrophic event, making them unable to work. This fund holds annual fundraisers that go toward the residents. This remarkable success led the artists to move to its current location on Laguna Canyon Road. When the artists spread Sawdust on the ground to combat the dust and mud, the media called it the Sawdust Festival. That name has identified the show for decades. The Sawdust Art Festival is truly an event meant for the locals of Laguna. Since the show is non-juried, enthusiastic amateurs, the spice and variety make every show different from the last. Make sure to check out the spectacular displays at the festival this holiday season! 
Open from November 17th – December 17th, 2023 (weekends only!) 
Time: 10 am – 7 pm
Location: 935 Laguna Canyon Rd, Laguna Beach, CA 92651
Prices: 
Adults – $10 
Seniors (65+) – $7
Children (6-12 yrs old) – $5
Children 5 & under – FREE