2015-2016 Rotary Club Students of the Month
Hang on for a minute...we're trying to find some more stories you might like.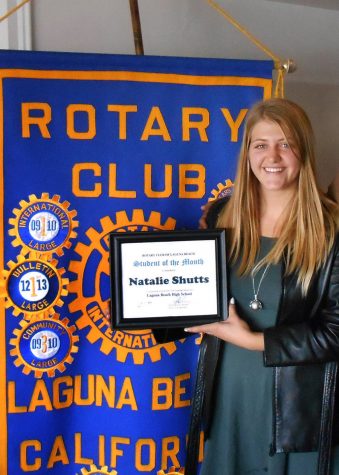 Natalie Shutts
Natalie Shutts was recently honored as Laguna Rotary Club, Student of the Month for December. Excelling in Language at LBHS, she is a National Merit Commended student. Natalie has received PRIDE Awards in Spanish I, II and Award for Global Studies, International Baccalaureate. She is an active Debater with Model UN and has participated in Northern European Speech and Debate Association in Barcelona. Natalie plans to attend a 4 year college and continue to law school for a JD in Public International Law.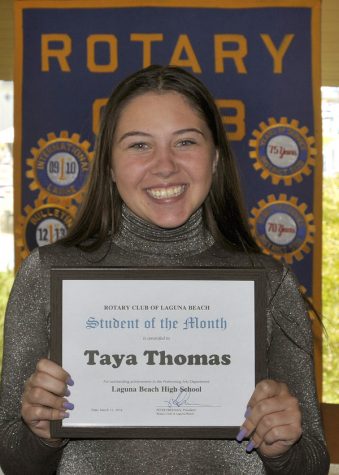 Taya Thomas
   Taya Thomas was honored by Laguna Rotary Club as March Student of the Month in Performing Arts Dept. She is a ROP Distinguished Student and received Pride and Excellence Awards for Drama and English. Taya participates in Drama Production, Chorus and Dance. She plans on attending college in New York, studying English and Theatre. Her future plans include becoming a Writer/Journalist.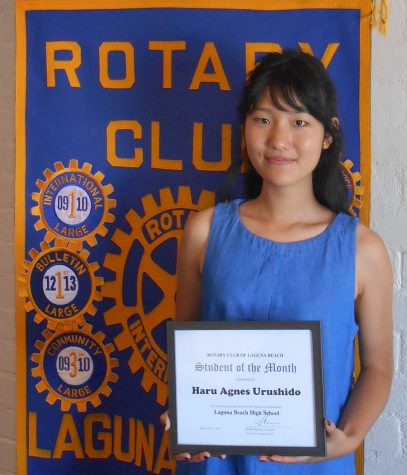 Haru Agnes Urushido
   Haru Agnes Urushido was honored as April, Student of the Month by Laguna Rotary Club. She is being recognized from the Visual Arts Dept at LBHS. Haru is a Silver Prize winner in the All Japan High School Art and Craft, Color It Orange exhibit. She also participates in High School Theater as a member of "Hyakunin-Isshu", One Hundred Poems by One Hundred Poets Card Club. After graduating Haru plans to attend San Francisco Art Institute.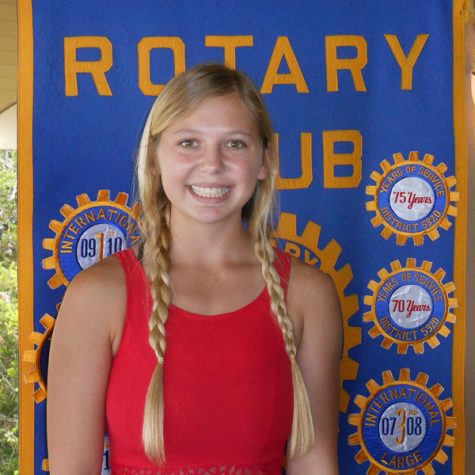 Molly McMillen
   Laguna Rotary Club has honored Molly McMillen as October's LBHS Student of the Month in English. She has received Awards of Excellence in Literature, Reflections Contest and French. Molly is a member of ASB, ACR, AP Biology and Catalyst Club. She plans to attend Medical School and hopes to become an Anesthesiologist.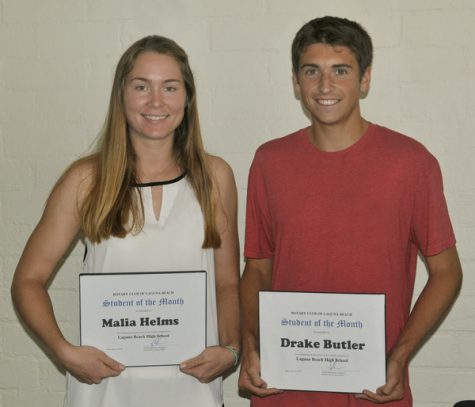 Malia Helms & Drake Butler
The Laguna Beach Rotary Club honored Malia Helms and Drake Butler as LBHS Students of the Month for May. They both have excelled as Scholar Athletes. Malia received Sportsmanship Award for Varsity Tennis, OC Champion Award and Excellence awards for Geometry, Algebra II and Pre-Calculus. She plans on attending UC Davis, Majoring in Bio Engineering while competing in Track and Field. Drake received Excellence Award in Physics and HS Jazz Band. He competes in Cross Country Track, plays in the Wind Ensemble and LBHS Marching Band. Drake plans on attending Chapman University studying Business Administration while also participating in Track.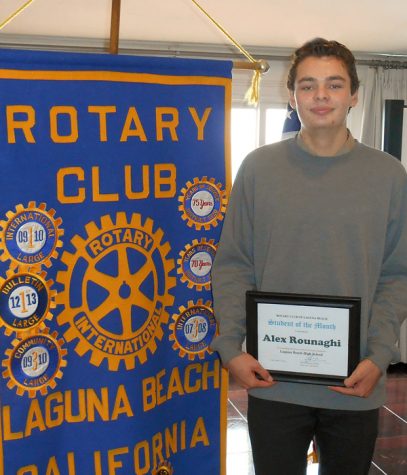 Alex Rounaghi
   Alex Rounaghi was recognized as January's Student of the Month by Laguna Rotary Club. History and Current Events are Alex's interest and studies. He is Senior Class President, ASB 4 years, Secretary-General of Model United Nations. Activities includes National Honor Society/Link Leader and Volleyball. Alex is LB Junior Citizen of the Year, California Boy's State Delegate and has served as U.S. Senate Page, sponsored by Senator Feinstein. He plans to study Political Science and Economics and was accepted to Georgetown University. Future goals include law school and career in criminal justice.