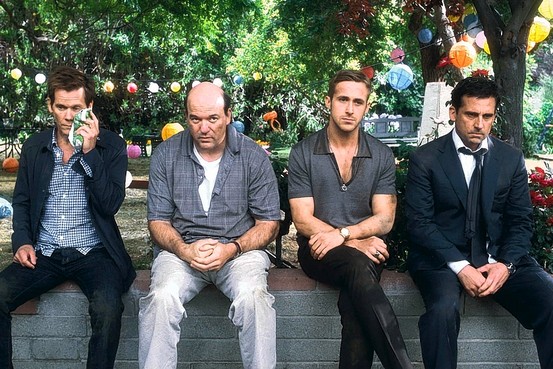 Crazy, Stupid, Love is a romantic comedy directed by Glenn Ficarra and John Requa. This film takes you through six different connected plots as you watch them all slowly come together. Each story goes through different obstacles and displays different lessons the viewer can learn. Crazy, Stupid, Love has won two People's Choice Awards as well as a Teens' Choice Award.
Hannah (Emma Stone) meets a guy at a bar and it is obvious that she is initially not into him. Later she decides to meet up with him and they end up becoming very fond of each other. They start going out and their relationship is going very well. She brings him over to meet her family but, it is revealed that her boyfriend may know her father a little too well.
One night Cal (Steve Carell) and Emily (Julianne Moore) go out for dinner, they have a local teen named Jessica (Lio Tipton) babysit for their kids Molly and Robbie (Joey King and Jonah Bobo). 
The night Cal and Emily go out for dinner, they have a local teen named Jessica babysit for their kids, Molly and Robbie. Jessica's intense feelings for Cal are later revealed to the audience when she attempts to admit her feelings to him as he drives her home. Jessica's mother was later doing her laundry when she found revealing photos in an envelope labeled Cal. After Jessica's mother showed her father the photos
Post Cal and Emily's divorce, she admits that she was sleeping with a man named David Lindhagen from her work, whom Cal then grows to despise. She attempts to counter that her affair was not the only reason for the divorce and that she has been unhappy, but Cal does not listen as he still leaves for home.
Cal and Emily are facing a divorce and Cal is devastated by this. He goes to a bar to drown his sorrows and meets a guy named Jacob (Ryan Gosling), who is displayed as a "player," who tries to make Cal more confident and get him to be as alluring as him. 
At the end of the movie, when all the conflicts come together, Cal and Emily begin to rekindle their marriage and Cal decides he wants to do something nice for Emily. When he does so his daughter Hannah comes over and decides to bring her boyfriend to meet her mom. Come to find out, her boyfriend is the same man who taught her dad how to hit on women after his divorce. After this reunion, Jessica's dad comes running in looking to fight with Cal because he thinks Cal is reciprocating the feelings towards Jessica. Robbie is then heartbroken when he finds out that Jessica is in love with someone else. To round it all off, David Lindhagen comes in to return Emily's scarf that she left in his car from their previous date. A multitude of fights break out and the police get called to resolve the situation.
This movie is the perfect rom-com for almost anyone. It is so fun and has a great comedy without being too cliche. All the plots are connected in the most perfect way and it works out amazing.
My favorite character was Cal. He is so effortlessly funny and it is so interesting watching his character develop. I was not happy with his actions after his divorce from Emily, however, the way he developed from that was amazing to watch. He is shown as your typical dad. However, this movie shows more of his struggles than just displaying him as this perfect suburban dad. All the plots come together in the climax, however, they are resolved separately in the end. Hannah and Jacob continue happily dating, and Robbie graduates from middle school. He gives a speech forgiving his dad and Cal goes up to apologize to everyone.
I love the way that each plot explores a different conflict. Cal and Emily are navigating the troubles of divorce. Jessica is attempting to confess her feelings for Cal. Hannah and Jacob are discovering their new relationship. Robbie is suffering his first major heartbreak. There is a conflict to go with every person watching. This movie really brings out the best and the worst out of all the characters. Every character really goes through their worst in the climax but all find their peace before the movie ends. The movie let down a little bit when it came to Emily's character. She cheated on Cal and divorced him and didn't apologize at all. However, in the end, she is open to rekindling their marriage. I guess this is her way of apologizing but it doesn't completely make up for everything in my book. 
Overall this is one of my favorite movies. Every time I need a little pick-me-up and want something fun to watch I immediately turn it on. This movie explores so many different conflicts that are all so insightful in their own way. This movie is the best comfort movie in my opinion. I would for sure recommend this movie to anyone wanting a light-hearted movie to watch.