Breaker Nation follow-up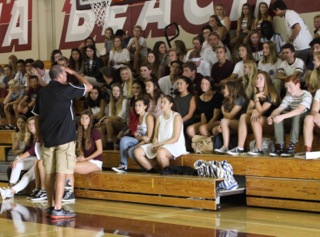 Hang on for a minute...we're trying to find some more stories you might like.
As many of you already know, campus supervisor and coach Mark "Preacher" Harris has started a club called Breaker Nation. Breaker Nation brings together the students, faculty, athletes, fans, seniors and freshmen to improve the overall atmosphere of LBHS sports.
"Breaker Nation is a conglomeration of students that attend sporting events together and perform organized cheers. Recently, the band has been showing up too, so we have the drum core and the band playing," said club advisor Harris.
Members of the club are attempting to instill school spirit at sporting events, which seemed to be lacking in previous years.
"The reason for the club was for student athletes to support other student athletes. Although it has been a little slow, the kids who do come have a blast together. Having the band and the cheerleaders has completely changed the club and really added to the enthusiasm. It's moving a little slower than I would have liked, but the students still have so much fun whenever they attend," said Harris.
Many students have complained about the lack of attendance and support at sports games.
"Having support from the community makes me feel confident about my playing ability, and I think it boosts a player's performance to have someone there cheering them on," said football player Connor Sorensen.
Breaker Nation currently attends mostly senior nights and playoff games. They regularly attend about two or three games per sport every season.
"I want the leaders that are going to put themselves out there and stand up and take control. Those are the kids that will be successful," said Harris.
Harris has been working on expanding and building Breaker Nation into a successful and popular club.
"I think Breaker Nation really has the power to change the student body. We have the momentum to make an impact; maybe it will take a few years, but I think by the time the freshmen this year are graduating, Laguna will be a model for school spirit," said senior Madi Flores.