Girls' Basketball rolls to impressive 18-4 record
On Thursday, Jan. 12, LBHS Breaker Girls' Basketball hosted the Huntington Beach Oilers for each team's second league matchup of the 2022-2023 season. This was the Breakers' league home opener where the 18-4 Breakers, led by senior Sophie Marriner, defeated the 8-14 Oilers.
The Breakers trailed 23-14 at the half but slowly climbed back in the second half. By the end of the fourth quarter, the game was tied at 37-37, and overtime ensued. After overtime, it was the Breakers with 44 points who knocked off the Oilers with 42 points, extending their win streak to four in a row. 
"We were in a tough spot at the half, but our coach kept us positive and gave us the confidence to claw back into the game. We ended up tying it in the fourth and sending the game to overtime, where we took the victory," said senior Sabrina Yang.
Senior guard Sophie Marriner finished with yet another double-double, scoring 12 points and recording a whopping 22 rebounds, with 16 of which being offensive rebounds. Not to mention, Marriner also recorded a team-high five steals and blocks and made five of her eight shots from the line.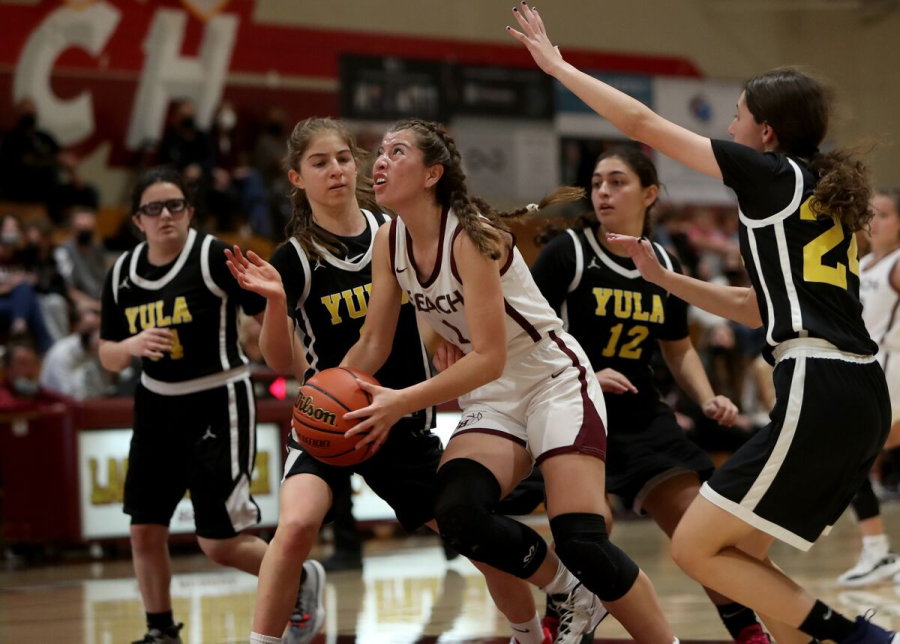 "Sophie is such a well rounded player. Her ability to force turnovers and get rebounds are second to none. She can truly do it all and is a large factor of our success," said junior Kate Cheng.
Senior guard Kenna Rudolph was also a key component to the Breaker victory last Thursday, as she drilled four three-pointers, collected four rebounds, two assists and four steals and blocks. 
"Kenna is an important member of our team that contributes to our identity. Her ability to knock down threes consistently puts us in a good position to win every game we play," said Marriner.
The Breakers are now 2-0 in league and look forward to making a deep playoff run. They have six games remaining (four of which are league games) and will take on the Edison Chargers at home for their last regular season game of the season on Feb. 1.