LBHS remembers the Model United Nations "Godfather," Rome Friesen
On Oct. 24, 2022, Romaine "Rome" Friesen, beloved history and Model United Nations teacher, passed away. Friesen modeled compassion and provided inspiration to the Laguna Beach High School community from 1972 to when he retired in 2002.
Born on Feb. 19, 1943 in rural Nebraska, Friesen graduated from Henderson High School in 1960 before moving on to Freeman Junior College, where he then transferred to Bethel College. His first teaching position was in Omaha, Nebraska, at South High School in 1964, when he was only 21 years old. 
Friesen also worked at a summer camp in the Catskill Mountains, helping disadvantaged teens from Harlem, and he continued teaching in Omaha until 1969. Friesen and his wife, Judy Kelley Friesen, whom he married in 1966, then moved to California in 1969, where he tutored at Sylvan Learning Center in Los Angeles and worked in real estate. In 1972, he started teaching at LBHS.
At home among "The Artists," Friesen founded the Model United Nations chapter and became an inspiration to many students, including Jonathan Cohen, who went on to become a United Nations Ambassador. 
"The prospect of helping resolve vexing international challenges to peace and security, planted in my mind by Rome Friesen, inspired me as a teen and fueled my academic interest as a university student," said Cohen. "These noble goals were taught to me when I signed up for Model UN as a high school student in the 1970s. They were my beacon when I chose to pursue a diplomatic career." 
LBHS's Model UN program continues to thrive as a result of the strong foundation Friesen established. 
"Rome was a teacher, mentor and friend to me," said history teacher Jonathan Todd, who currently co-runs Model UN after initially joining the program as a high school student as a result of Friesen's encouragement. "He had created such an amazing program, and I was excited to have the chance to help our students become global citizens. Fellow MUN teacher Mr. Shen and I refer to him as the 'Godfather,' and I consider him one of Laguna's greatest teachers."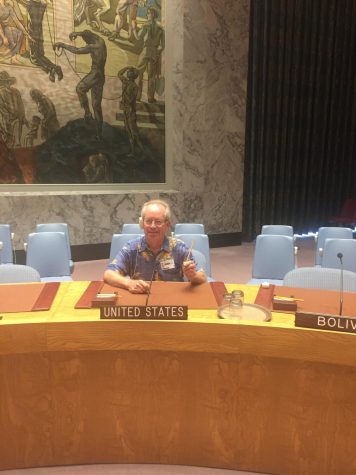 Outside of Model UN, Friesen was loved as a colleague and a teacher. 
"Whether in or outside of his classroom, he was always inquisitive, canny and interested in ideas," said English teacher David Brobeck, who also had the benefit of being both Friesen's student and eventual colleague. "Despite knowing well that he was more intelligent and interesting than I am, I never felt unwelcome by Rome. He was the embodiment of "mellow cool." Nothing riled him, and he had a presence that everyone wanted to be around and respected."
Throughout the three decades of teaching at LBHS, Friesen maintained his kindness and compassion for his school community.
"I met Rome when I first started working at LBHS and when he was close to retirement," said math teacher Valorie Quigley. "Rome was a friend of my husband's family in Laguna, and he immediately welcomed me to the school. He always made a point to say hello when I would see him on campus."   
Retired math teacher Gary "Shap" Shapiro had the pleasure of building community alongside Friesen for the majority of their teaching careers. 
"In a conversation I had recently with a few of Rome's students from the 1980s, they all agreed that they not only enjoyed learning in his class, but also it was quite evident that he truly cared for the well-being of his students," said Shapiro. 
After retirement, Friesen couldn't stay away from his Laguna Beach family for long.
"Some of the most memorable 'lunch dates' I've had in my classroom over the years were when Mr. Friesen came back to the high school to substitute teach," said English and Journalism teacher Jim Brusky. "No longer his student, I had the honor to bond with him on an adult level. We talked about our families and other serious matters, but we also shared laughs about the good old days, like how in order to use the restroom, students in Mr. Friesen's class would have to wear a John Deere hat or a neon construction vest as a hall pass – or we could opt to haul a giant construction cone down the halls!"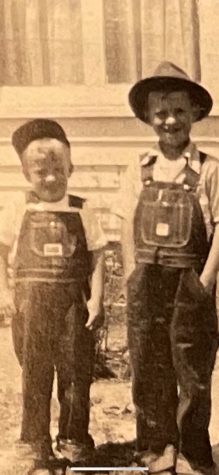 Additional LBHS alumni recall the kind-hearted and open culture that Friesen promoted on campus. 
"Mr. Friesen was the advisor to Salon Club, which met at lunch to talk about the important issues of the 1990s," said Craig Hammill, class of 1995. "One day, the topic was LGBTQ+ identity, and Mr. Friesen expressed great empathy and understanding and insight. I was moved by his candor and compassion."
Perhaps equal to Friesen's accepting nature was his humility. He served others out of inherent goodness and never looked for personal recognition.
"I learned from him even though I never told him," said math teacher Steven Bogusiewicz. "Rome's teaching style influenced how I interact with my students to this day. Kindness, concern, and a sense of humor are traits he exhibited. It is a shame that he is gone so soon. He was truly a gentleman." 
Friesen leaves behind many beloved family members, including his daughter Michelle Friesen, son Greg Friesen, granddaughter Kayla Knight, brother Elgie Friesen, sisters Wyona Friesen and Kathy Schmidt, and several nieces and nephews.