FLOW impacts LBHS community with school-wide events
FLOW, standing for 'Fire, Land, Ocean, and Water,' is a club and organization established this year by LBHS English teachers David Brobeck and Sarah Benson. FLOW Club aims to encourage environmental awareness for all LBHS students and to build real-life relevance into the high school curriculum.
"The idea is that all subject areas can learn about issues involving fire, land, ocean, and water from the lens of their curriculum," said Brobeck. "The other aspect of FLOW is to make connections with our local Laguna Beach environmental community."
To promote FLOW, a week-long film festival was held at LBHS from Nov. 8 to Nov. 12. Each day during the Tutorial period, students listened to a guest speaker that talked about their grade level's respective subject—juniors: ocean, sophomores: land, seniors: water, and freshmen: fire. Students were welcome to come to the presentations for other grade levels as well as their own. The vision with FLOW week was to generate awareness and enthusiasm for FLOW topics with students.
"We partnered up with the Coast Film Festival and had four dynamic assemblies with famous filmmakers and professional athletes. My quiet hope is that students will be inspired to study environmentalism in college and as a career," said Brobeck.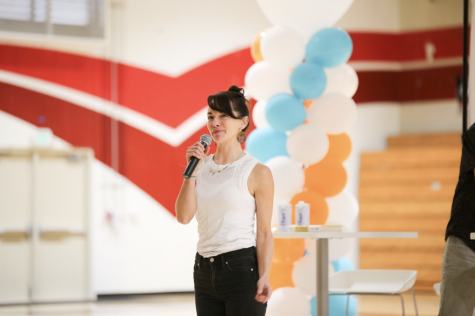 Beginning at the start of the second semester in January, English teachers for each grade level will be doing a brand new common-read unit. The common-read experience, modeled after what many universities integrate for incoming college freshmen, inspires students that are passionate about one of the FLOW topics. All students will be reading a novel pertaining to their assigned topic. Freshmen will be reading Smokejumper (Fire), sophomores will read A Walk in the Woods (Land), juniors will read Deep (Ocean), and seniors will read Thirst (Water).
"I am thrilled that our high school is able to execute an innovative program that brings real-world authenticity to what students are learning in the classroom. I think it gives students something different, and ultimately, I hope that it motivates them to think differently about the world and their role in it," said Benson. 
Starting in 2018, Brobeck and Benson were assigned to invigorate writing across the school curriculum. To execute that initiative, they decided that the various disciplines on LBHS campus needed a common focus.
"The process for creating FLOW has been lengthy, but very rewarding. We selected FLOW (fire, land, ocean, and water) because we felt like each of those topics were relevant to Laguna Beach, specifically, and could be integrated into class discussion and activities across the curriculum. In February of 2020, we were 
awarded the SchoolPower Mega Grant and that has allowed us to purchase the books for every student and implement our FLOW Week kickoff last month," said Benson.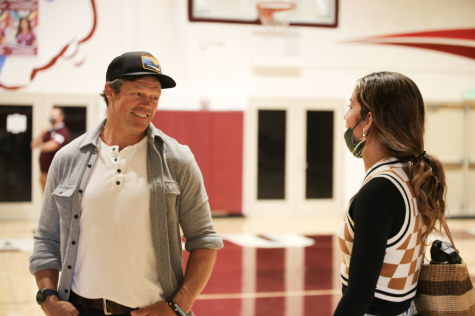 All English teachers, although they had to reorganize their curriculum, are thrilled with the opportunity that this FLOW common-read unit will provide.
"We started the year in a non-fiction unit, so it will be nice to return to some non-fiction, specifically environmental literature, at the start of semester two," said English teacher Dawn Hunnicutt. "Sarah Benson and David Brobeck championed this initiative pre-pandemic, and unfortunately it was put on hold due to COVID. They did all of the legwork in terms of choosing books and designing the curriculum, so they deserve all of the credit!"
Not only has FLOW increased environmental awareness and provided club members with engaging volunteer opportunities, but it also made them recognize the power of teamwork and how much of a difference only a couple of people can make.
"We only get one Earth, and everyone needs to be working towards saving it, even if they are small, individual contributions. These small contributions can pile up into greater positive effects, and the differ
ence would be incredible," said FLOW member Eleanor Ramsey.