Class of 2020: Advice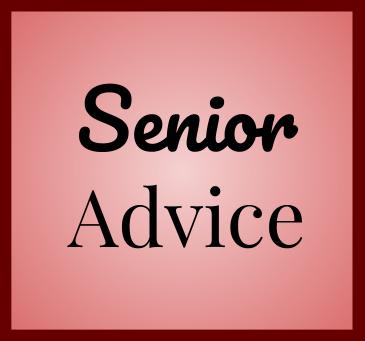 Claire Wittkop: Don't throw apples at people. Trust me. You'll always regret it. 
Zoe Payne-Carter: Do not wait until the last minute to finish your community service! It sucks. Also take the classes you want to take, not what your parents think you should take. It will be a lot easier on you if you do. 
Tanner Burton: Don't try and juggle AP classes, sports, a job, and other after school activities. Find one or two things to pursue and focus on that.
Isabella Peterson: Enjoy every second because it goes by so fast.
Tessa Blanchard: It doesn't matter as much as you think it does everything works out
Hailey Cortez: Don't be afraid to take advanced courses. I was an anxious hard worker but have gotten better through putting myself in uncomfortable situations. Check out the college and career courses to explore options for a major as well.
Geste Bianchi: Work hard. Get good grades. I didn't and I regret it a lot. 
Ethan Ghere: You might hate it here, but don't take it for granted. Enjoy the time you have with your classmates; you'll never know when life will turn everything on your head.
Soren Patchell: Be genuine, be kind, be optimistic, and explore your interests. 
Andrew Shutts: Try to turn what you are interested in and  what you like to do into something substantial that you can talk about. If that is volunteering then start a club or maybe do something in the summer, but the more you can talk about and the more you can distinguish yourself from everyone else the better.
Kaitin Ryan: don't overload your schedule w hard classes!
Izzy Meekma: have fun!!!! 
Aiden Blanton: Grades won't make you a good person. It's the people you spend time with that will shape you.
Sahil Das: Start all of your college stuff early (SAT/ACT, essays, etc). It will benefit you greatly in the future. 
Kendra Nugent: Do the opposite of what I did. Please.

Kennedy Roller: Get your license as soon as possible!
Luka Salib: Don't wait to do things. If you want to take a class or try an extracurricular, take it!  If you like someone, just ask them out out! If you have friends you want to make and bridges you'd like to rebuild, get started! If I've learned anything from recent worldly events, it's that you never know when things are going to end.
Chalres Besso: date a Senior to get clout among your peers and also let people know how much you love them cause when everyone graduates you don't want to leave things unsaid
Conley Good: Don't get behind, don't make dumb mistakes, and keep your grades up because you get screwed out of a lot of college options if your schoolwork isn't up to par.
Gabrielle Pontius: Enjoy every moment of high school because it goes by really fast. Also, have some more spirit. 
Anthony Ramirez: BE AUTHENTICALLY YOURSELF! The greats didn't get around by just being "normal".
Carter Jones: Don't let anyone tell who you are except yourself 
Logan Leeds: Work hard. It's simple advice but hard to do. If you put in your best work, you will go where you want to go, and be able to do what you want to do.
Kyle Herkins: Get some sleep.  Eat at least 3 meals a day.  Don't drown in responsibilities, but make sure to have some.
Staci Ensmiger: Make sure to incorporate time for yourself instead of constantly studying. High school goes by so quickly, don't forget to enjoy it. 
Isadora Duskin-Feinberg: Get involved as much as you can. My best memories are acting in the musical, having fun with friends in clubs like Debate Club, going to games, and going to dances. If you are stuck in school,  might as well build some fun memories and experiences!
Nathan Solomon: Believe that anything is possible. I know its cheesy, but i'm serious. The sky is the limit at LBHS. Also, just know that your extracurriculars define you—not your grades.
Laila Cruz: Make the most of high school and hang out with your friends! 
Dylan Petway: Always park near the exits. Traffic gets bad really fast!
Jai-Lin Garret: Being authentic should be your number one priority in school and in life!
Ande Diggins: Don't forget to work hard but also have fun because in the end high school goes by so quickly. 
Russel Farhang: patience
Kendall Fraser: Enjoy you time on campus and just take in everything high school has to offer because you only get four years to make the most of your high school experience.
Jessica Berk: Enjoy high school while you can! You never know how long it's gonna last 
Lily Owen: Get involved! Don't be afraid to talk to new people and reach out! You never know what might happen! 
Danielle Gagne: Stay on top of your work. A lot of homework is manageable with good planning and focus.
Zoe Waters: Don't procrastinate. Never procrastinate. Procrastinate only till the last minute.
Elleni Solomon: Before leaving your assigned reading for the night before it's due, make sure that there's a free audiobook on YouTube.
Grace Houlahan: Don't worry about getting nervous walking past the seniors to get to the activities office. It happened to everyone, including myself. 
Riley Russo: Really take every opportunity that you can, make friends with a variety of people, and find the things you are passionate about. High school went by so quick, but the people I met and things I did in that short time made it unforgettable.  
Constantin Naseill: Always be yourself
James Loughlin: Don't give up.
Piper Naess: Be grateful for every opportunity you get at the high school, and never take school for granted.
Sophia Vandertoll: try not to procrastinate
Bryanna Rodriguez: Don't stress, later you'll realize its not worth it. Literally just take everyday one day at a time! Also don't compare yourself with others (grades, etc.) everyone is unique and is going through their own situations. Lastly, be kind!
Moorea Pike: Spend less time trying to fit in and more time developing real friendships with the real ones. Don't waste it on maybe the 'popular' people. 
Fernando Alonso: chase the bag mane stick with your plans dont get side tracked 
Adam Joyce: Do your best, have fun, don't do Fortnite, it's not worth it.
Rylee Hill: Get on the good side of everyone that works at the school including the GOATS:  Megan, Jen, and Connie they will always have your back 
Luke Yates: People change a lot throughout high school. Expect your friend groups to change.
Drew Fink: Enjoy every day at school- you never know when it might be your last. 
Beck Kessler: Don't stress. Your life isn't over if you don't get an A in one of your classes
Cambria Hall: The high school years will fly by. Be intentional about making memories and having fun. Be the person who cheers for their team, asks someone to the dance and has fun with their friends.
Sammer Tarazi: Become good friends with the staff 
Jayd Sprague: Always work hard and never think you have time.  
Morgan Falkowski: Even when school isn't fun, enjoy the friends and community that you have. 
Camila Reese: chill out, bruv.  just vibe. 
Eastyn Cianto: Take AP Art History
McKayla Brooks: Just keep trucking
Aiden Svenson: be nice
Connor Fink: Enjoy yourself and work hard to who you want to become.
Karmen Schmidt: Don't take the lack of responsibility for granted 
Brade Soloff: Enjoy high school it goes by faster than you think. 
Alex Couliou: Follow the rubric!
Sophia Seidensticker: Keep pushing through even when it gets hard because it will all be worth it in the end.
Jade Petrovitch: Your grades aren't everything, just try to learn something.
Jackson Yelland: Enjoy every moment, don't take anything for granted.
Lucas Kravitz: it goes by quick 
Chloe Hale: Get your community service out of the way you don't want to fall behind on those 
Abigail Amish: Get your license as soon as possible!
Sara Jacobs: Take school seriously, but also enjoy your time in high school!
Kenneth Chu: Don't take things too seriously; just manage your time well, make friends, and success will find you.
Michael Torbenson: Just get through the work. It's so easy. Paying attention in class and doing your homework is one of the best ways to get by smoothly and accurately
Sierra REad: Take time to enjoy everything around you! Enjoy the good and the bad, the people, the sports, the art, the beach, and even the long boring school days. Just appreciate everything about LBHS because in my experience, everything went by so fast! I wish I had a few more weeks to enjoy my last days in high school.  
Alex Chang: Some advice that I have for underclassmen is to get involved with school activities early on. I waited until my senior year to get involved and realized how much I missed out on.
Kareem Elmewafy; make time and study for all your classes
Will Potratz: Enjoy your senior year because you never know when it'll be canceled
Annamarie McIntosh: don't procrastinate!!!! it is not worth it.
Cirafina Biele: Senior year is actually hard. 
Jack Crawford: It goes by faster than you think
Catherine Keyser: Don't procrastinate on pursuing your passions, interests, or happiness; they are all so much more valuable to you as realities of today than as dreams of tomorrow.
Alex Lemus: Anywhere you are we all stand together 
Avalon Brice: You are not defined by a test score or your gpa. Don't make yourself stressed and compare yourself to your friends. You are doing amazing that's all that matters.
Mallin Glade: Never "wait until next time." You don't know if it will be your last chance.
Brooke Berestford: Take advantage of every opportunity you get, you never know what you have until it's gone!
Kenya Ripley Dunlap: Study hard and go to the beach!
Benjamin Feinberg: Take the right side of the stairs!!
John Ford: Work hard but don't forget to relax
Sahba Azarli: ughh good luck
Jackson Jenkins: 
Josheph Schenk: be patient because it only gets better
Wes Abrahams: Chill out
David Spitz: Please learn to get a good sleep schedule
Grabrielle Dennty: You really just don't have to kiss your teachers' you know what anymore
Mohamad Berri: don't push Mrs. Quigly's, Mr. Hendrickson, and Mr. Bogey's limits 
Aidan Kidd: Don't fall behind and enjoy the time you have because it goes fast.
Cade st. Claire: Don't drown yourself in super hard classes 
Hallie Carballo: Don't try to impress upperclassmen…just be yourself.
Omid Samanifard: Stick to one sport for clubs because if you have too much on your plate, then you will be overwhelmed. 
Gabriella Pachl: Senior year flies by.
Trent Ralston: GRIND!
Grace Peterson: Make sure to keep focused on grades and academia, but always remember to have fun throughout your years in high school! 
Jillian Goson: One test will not make or break your grade.
Schuyler Cozzens: The advice I have for my underclassmen is to do your work so you can goof off later. But find a balance between goofing off and doing substantial stuff. Spend some time learning things, doing things, becoming things! Now is no better time cause you got nothing else to do! 
Isabel Duong: Push yourself. Try your hardest in school. Your senior self will thank you for it.
Vanessa Gee: Treat everyday as if it's your last.
Piero Wemyss: Keep on goin'.
Augie Renezeder: Stay focused and get through junior year.
Dylan Davis: Make sure you focus on your grades. It's awesome to have some fun but grades  will determine how much fun you can have for the rest of your life.
Madi Garwal: Senioritis is real…just wait.
Holden Geary: Don't stress about college you'll all end up where you're supposed to be.
Sam Suh: Keep studying. The process seems long and boring at the moment, but looking back, all of high school seemed like it only lasted one year.
Toby Bumgardner: Use all of your resources.
Angelina Dyrnaes: Find something you're interested in and dedicate your classes and extracurriculars to that thing so you don't overwhelm yourself.
Nick O'Donnell: Don't slack off.
Julia Henry: Live your life for yourself. Also, don't walk slowly in the middle of the hallway. 
Olivia Shipp: Take advantage of every opportunity that you have at LBHS because you will never get this time back!