Our Town Review
If you think Laguna Beach is a small town, then take a look at the LBHS production, Our Town, set in Grover's Corner, New Hampshire. The story follows a romantic tale of two star-crossed lovers and how their life progresses through time. 
The play is divided into three acts that mirror the progression of time. The first act is a portrayal of daily life in their small town. This act only spans one day. The second act is about love and marriage, and it portrays these concepts through the two main characters who end up falling in love. The third act is about death, and this act reveals the moral lessons meant to be learned through this play. Emily Webb, the female lead, dies. We follow her to the afterlife where she relives one of her old memories, realizing all that the living take for granted.   
The first act opens with the two main characters– George Gibbs and Emily Webb– stumbling through an awkward encounter with each other. The day includes basic family life such as getting ready for school and eating breakfast with the family. Family bonds are established, the church choir rehearses, and Mrs. Webb and Mrs. Gibbs gossip about the town. The audience is also given statistics about Grover's Corner by Professor Willard which gives insight into just how small the town is. In the midst of it all, George and Emily's friendship progresses and leads into the next act: Love and Marriage. 
The second act opens after a small fifteen intermission. The audience is greeted with Emily and George's wedding day. Emotions are high within both families as their children are growing up and starting their lives. Before the marriage is finalized, we are taken back in time to an emotionally fueled discussion between the two lovers when they know they are in love. Emily feels as if George had changed and then becomes upset at herself for saying such a thing. George reassures Emily that she had done nothing wrong and as a result, the two forge a closer bond. Emily and George even reveal that they had liked each other for years which leads to their marriage.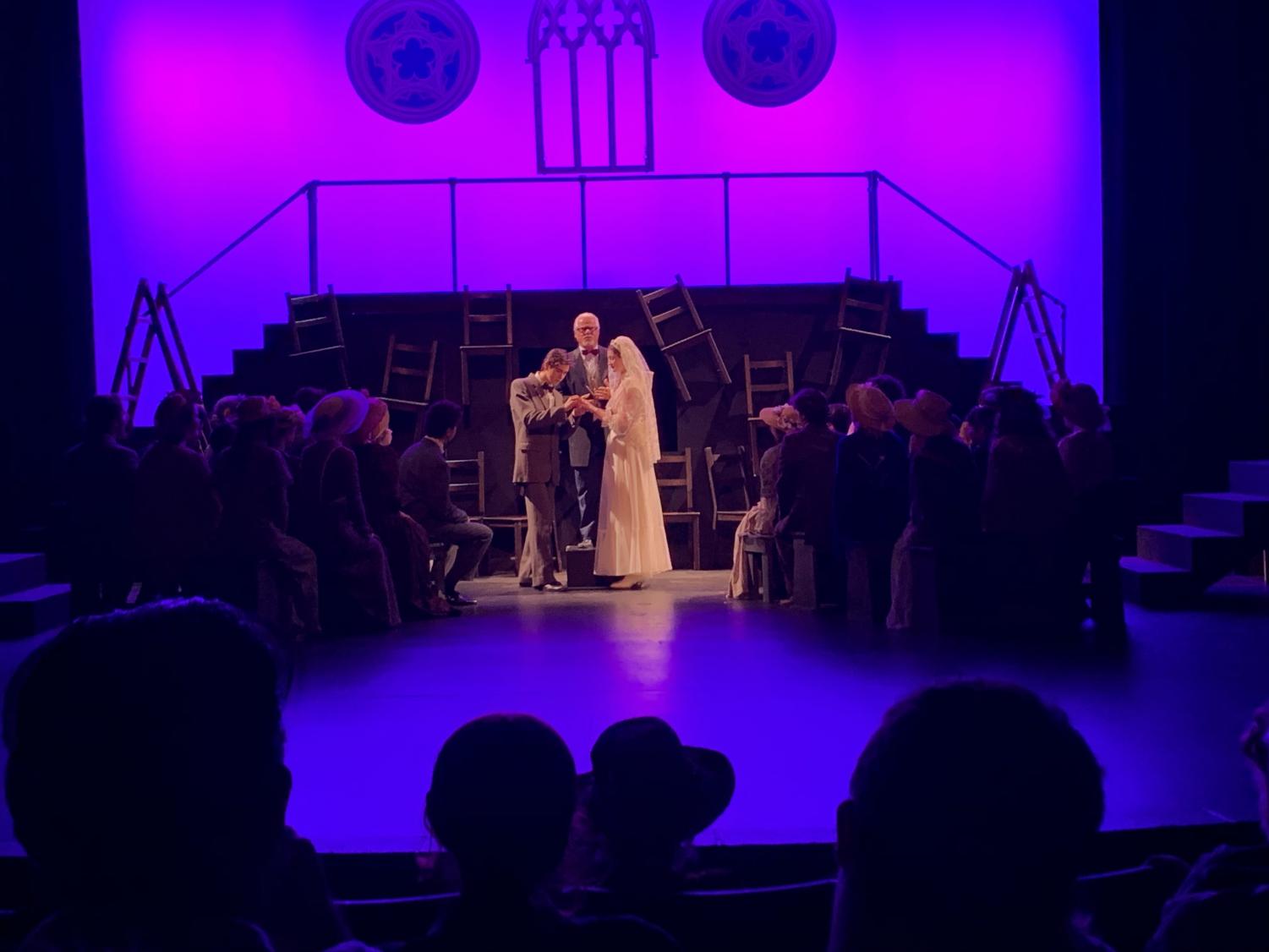 Act three takes a swift turn from the cheerful demeanor of the play. It opens with Emily's funeral as she died from childbirth several years after their marriage. The town grieves at her grave and George is seen as heart-broken at her untimely death. Emily's spirit sits with all the other dead citizens of Grover's Corner and watches the crowd mourn for her death. Although she is warned against her decision, Emily goes back to her twelfth birthday and watches herself be ungrateful for her family and for her life. This is when the theme of the play strikes: humans do not always appreciate life and each other, often taking these things for granted. 
The use of folies made Our Town a one-of-a-kind show. Folies are the implementation of live-action sounds instead of using recordings. Specifically, the live action sounds are of birds chirping, milk jugs clinking, and even the sound a bell many times throughout the play.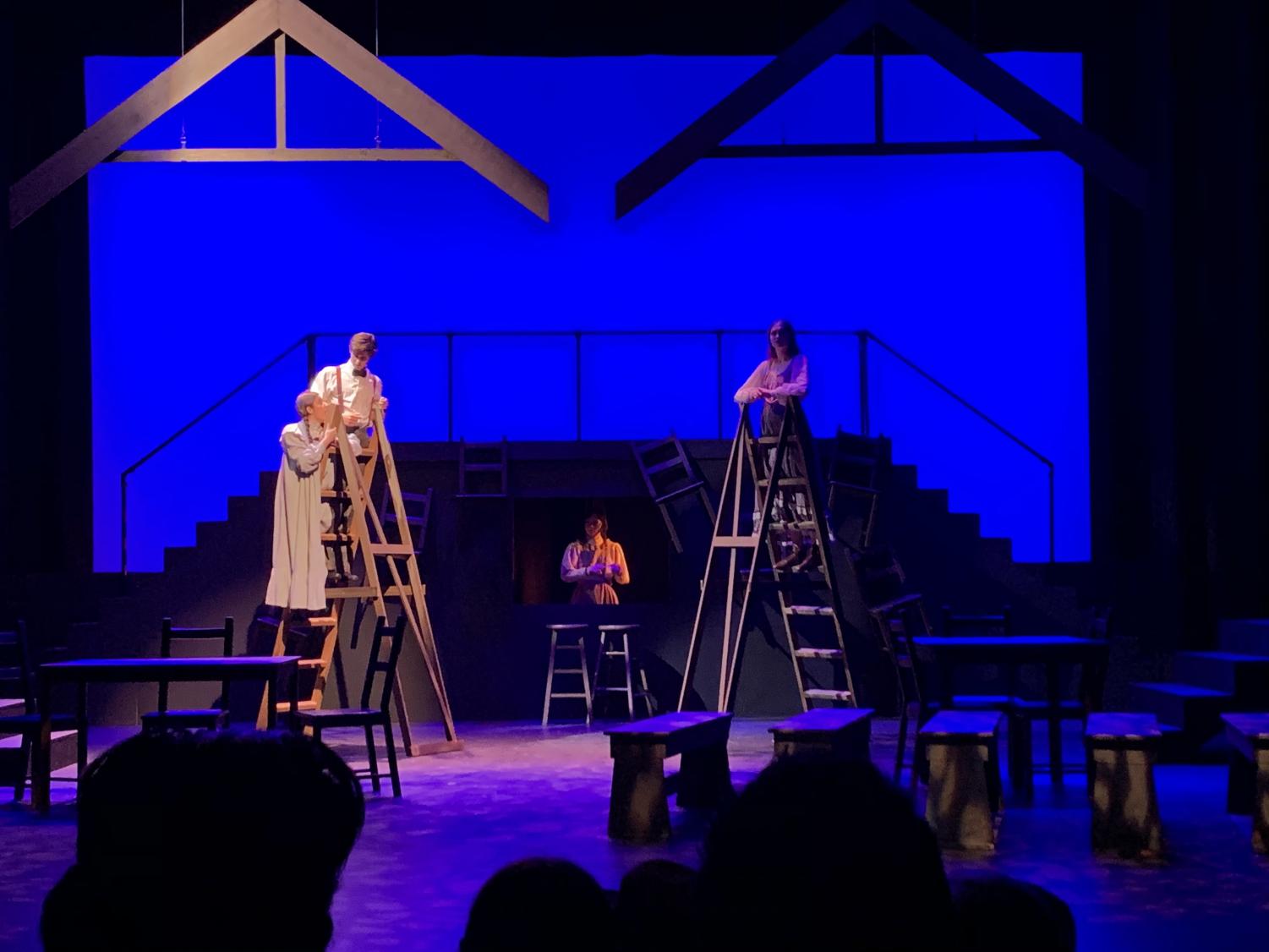 The execution of Our Town was outstanding with the directing of Alexis Karol and Selena Del Pizzo. The lead roles of Emily and George were played by two seniors: Zoe Waters and Charlie Besso. Mark Dessler's performance was one of the most outstanding of them all. Dressler, LBHS's old theater director, returned to play the role of stage manager– basically a narration role for the show. With this amazing combination of talent, the production of Our Town was a great success.