LBHS surf team makes school history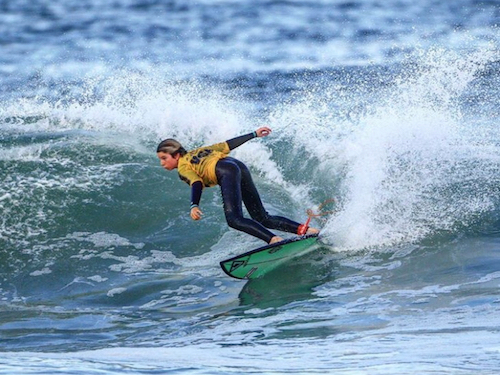 Last month, the LBHS surf team made school history in the NSSA Interscholastic Regional State Championships at Seaside Reef (Cardiff by the Sea) in San Diego. Falling to national powerhouse San Clemente by just nine points, LBHS surfers took second out of 10 schools.
"I believe this team has a chance to win the National Championships in June. We will be competing against schools from Hawaii, Florida, and all along our coast," said surf coach Scott Finn.
This is Laguna Beach's third year in a row competing at the regional state championships against much bigger schools like Newport and San Clemente. All of our surfers performed phenomenally, and the team was rewarded with finalists in each division.
"I love surfing, and being a part of this team with some of my closest friends makes surfing even more enjoyable. This has been one of our best seasons," said senior Kayla Coscino.
Coscino made it to the shortboard finals, along with two other surfers: sophomore Tess Booth and junior Sam Nelsen. Coscino placed fourth, Booth placed fifth and Nelsen ended in sixth place. LBHS was also represented in the longboard finals by senior Jameson Roller, who placed third. Seniors Trey Lockhart and Liam McCue contributed to the team's high score, almost making it to the semi-finals.
"It was great to compete with the best teams out there. Our team has a lot of talent, and I hope we can continue to compete at this level," said Nelsen.
Nelsen consistently earned some of the highest scores in his heats. Nelsen and his teammates not only competed against schools with two to three thousand students but also faced stormy conditions, making their success even more impressive.
"I felt so proud coming home with our second state championship. We worked together to make every point count, and we won! I had fun competing with such talented surfers in the lineup," said Booth.
Our surf team truly is destined for success, as shown by the girls' recent success at State Championships in which they earned first place. The competition took place in Oceanside.
Excellent performances from Coscino, Booth and junior Kalohe Danbara carried them to victory.
"It is awesome to see the results of the LBHS Surf Team… It is one thing to excel individually and as a team but another thing to do all of that, and be students of character in and out of the water.  Super stoked for Breaker Nation and the LBHS Surf Team," said Principal Dr. Jason Allemann.