Students travel to Asia and earn black belts in karate
For two weeks, three LBHS students, Emma Bladergroen, Evie Cant, and Eric Cortellessa, will travel to Asia to practice with the Shaolin Monks and test for their black belts in karate. After training for roughly ten years, these students will be able to tour Japan, China, and be immersed in the Shaolin Temple.
"I have had the privilege of training all three of them for a very long time now and that has given me the opportunity to watch them grow not only in the martial arts, but as students, athletes, and people in general. I am honored to travel with them to the Shaolin Temple and see these incredible three students, along with a few others, test for the Black Belts," said Master Jeff Kash of USSD Laguna Beach Dojo.
The dojo takes a trip to this temple every few years where the students who are of high enough rank are given the opportunity to train with some of the most talented and experienced martial artists on the planet, the Shaolin Warrior Monks. The group will be going to Japan where they will experience the culture and go sightseeing. From there, they will be heading to the Shaolin Temple where they will test for Black Belts and train with Shaolin Monks. They will see the Great Wall of China, a giant Jade Buddha statue during a hike, and Terra Cotta Warriors (an army of handmade clay sculptures created to protect the first emperor's grave).
"Each of these three have been incredible role models for all of our other students including their participation in and success at tournaments. They have competed in as many as four different categories of competition at a single tournament (Kata, Shaolin Forms, Weapons Forms and Sparring). The number of trophies that they have combined to win is far past any number I could remember at this point. Additionally, they each have been standouts on their respective tests at our National Headquarters," said Kash.
*USSD Laguna Beach Dojo offers a Free 2 Week Trial for anyone interested in learning self defense.
————
Emma Bladergroen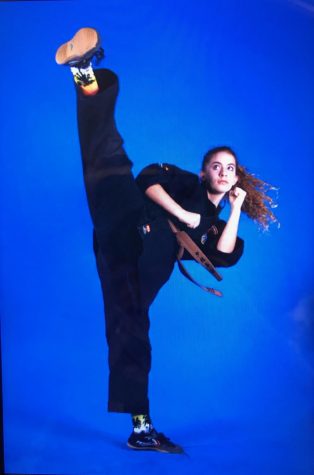 "I have been teaching Emma consistently since she was about 5 or 6 years old. Emma has always been outgoing and she has developed that trait into a strength at the dojo by becoming one of our best instructors. She has developed a great work ethic and applies that toward her schooling and volleyball as well," said Kash.
"I am coming up on ten years this September and I have won 1st Place, Jr. Women's Sparring, OC Winter Grand Championship 2017, and six more Grand Championship Titles. Hopefully, I will be able to earn my black belt in China. This is something I have dreamt about for almost a decade, and I am excited to share that moment with some of my closest friends who are now my family. I will continue to teach and train throughout the rest of my life, To see the people who I have grown up competing against and the ways they have improved, and the tight-knit family atmosphere that surrounds the martial arts community. Mostly my instructors, Master Kash, Sensei Angela, and Sensei Nate have pushed me to succeed. Obviously my family and friends as well, but also my training partners and the children whom I teach push me to be a better martial artist every day," said Bladergroen.
Evie Cant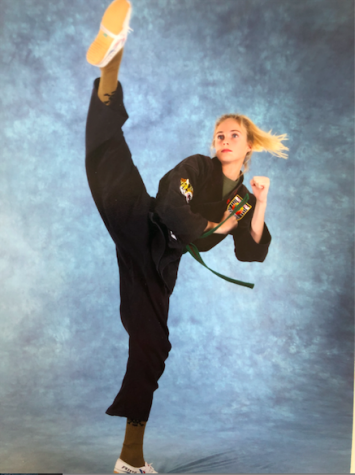 "Evie is one of the most driven people I know. Her ability to steadily grow her skills is a testament to her consistency and commitment to being the best she can be in any activity she pursues. She started when she was 10 and took a break for the year that she attended OCSA," said Kash.
"I have been practicing karate since I was 10 years old and I have won several awards in sparing and a couple in Kempo forms at USSD tournaments over the years. My goals are to earn my black belt this summer and later use my skills and knowledge from karate throughout life. My favorite part about competing is doing it with my friend, Emma Bladergroen. My instructor has pushed me to success over the years and helped me tremendously," said Cant.
Eric Cortellessa
"Eric has grown physically and a very rapid rate and while most kids struggle through this time he has worked even harder to make sure he stayed strong and continued to develop his coordination and abilities. As he has gained confidence, he is using it now in a teaching role to help other kids grow and develop their confidence too. Eric started back in 2006 when he was just 5 years old, but he took a break for a few years. He had the courage to come back knowing it would take some time to re-learn everything he had forgotten. Although I know he is a bit frustrated that he didn't stay consistent and achieve his goal sooner, I know he is proud to be achieving his black belt this summer in China," said Kash.