Laguna hosts 49th Asics Trophy Invitational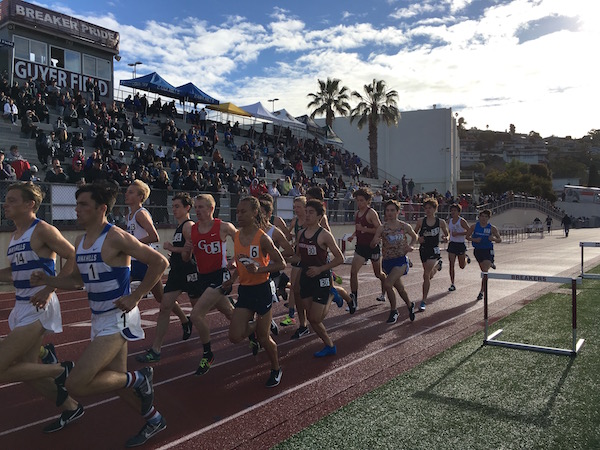 The Laguna Beach Track and Field program began hosting the Trophy Invite back in 1937 and continued the tradition until 1983, when a new coach decided to discontinue the meet. At first, the meet lasted two days. Athletes spent the night in the gym and attended a pancake breakfast the next morning. Eight years ago, Steve Lalim and Scott Wittkop brought the meet back to life, making it a one-day event rather than two. Today, the Trophy Invite is one of the top five reputable meets in the state. Lalim, the meet director, begins preparing for this meet the day after it ends the year prior.
This year on Saturday March 17, the LBHS Trophy Invite hosted 53 teams. Over 1,800 athletes competed from some of the best teams in California—and even a few from Nevada. The meet hosts the best of the best, so it was no surprise when a new meet record for the varsity girls 1600m was set by senior Haley Herberg from Capo Valley, who ran a 4:55.11.
"It's great to see the meet come together and run smoothly. It's a big, highly competitive meet, and both coaches and athletes had a great experience," said Lalim. "We take pride in running a meet that is both coach friendly and athlete friendly, trying to provide a positive track and field experience for everyone. I'm confident that was accomplished."
Perhaps one of the most competitive and exciting races at the Trophy Invite is the Eric Hulst 3200. There are four different 2-mile races (Varsity, Varsity Open, Frosh/Soph and Eric Hulst Varsity), but the Eric Hulst 3200—run in memoriam of Eric Hulst, Laguna's track namesake—is geared towards the top 30 varsity boys and girls in the state.
"The Eric Hulst 3200s were super competitive," said Lalim. "Each race was give automatic qualifiers into the Arcadia Invite 3200 for the top six boys and the top three girls. That alone speaks volumes for the competitiveness of the fields."
The winner of the boys Eric Hulst 3200 this year was senior Gavin Korby from Great Oak with a time of 9:18.20, while sophomore Tori Gaitan was the winner of the girls with a time of 10:34.76.
Laguna's standout athletes in the Hulst race were junior Ryan Smithers, finishing 19th with a personal best of 9:28.43, destroying his previous personal record by 27 seconds, senior Evie Cant  with a personal best of 11:18.11, placing eighth overall, and freshman Jessie Rose who ran a 11:37.59.
"The Eric Hulst 3200 was filled with very talented runners. This race pushed me harder than my previous 3200," said Smithers, who, on Saturday, ran the second fastest 3200 at LBHS in nine years. "It was eye-opening to break 9:30 and to be able to compete with these really fast runners. I was super happy with my time when I finished, but there is still a lot I need to improve on."
Additionally, in the girls 3200 varsity race—not the Hulst—junior Hannah Konkel led the pack, placing fourth with a personal best of 11:39.91. Konkel has been competitively running since she was nine years old, and this season she has run personal record after personal record, despite lingering injuries.
"My goals for this track season are to run in the 5-teens for the mile and 11:20s for the 2-mile and hopefully make it to CIF for this season." said Konkel. "Running an 11:39 in the 2-mile on Saturday altered my goals because I realized that the 2-mile race isn't as horrible as I thought, and I realized that I can run faster than I had thought."
The Trophy Invite is not only one of the most competitive meets, but it also gives Laguna's talented athletes a chance to make major improvements. Freshmen Ella Tyus and Maija Shaw placed 9th and 10th in the 200m varsity dash. Tyus ran a 27.05 and Shaw ran a 27.11. Furthermore, the girls varsity 4x100m relay team was .63 hundredth seconds from breaking the school record. Freshmen Ella Tyus, Majia Shaw, Ella Dartez and junior Shanai Auguis were all on that team.
"This meet changed my perception of competing because the competition was tough, but it made me realize what I can do," said Tyus. "I learned that not worrying about the outcome helps me run faster, and focusing on my goal for that meet—beating my PR—helped me achieve my goals.  After racing in this meet, I hope to keep improving my time in the 100 and 200, and I hope that our 4×1 team can beat the school record after being under a second off from it."