Co-ed cross country represents LBHS statewide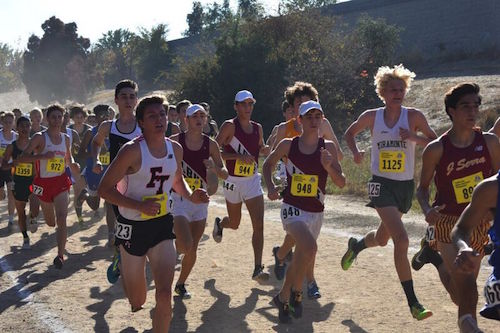 Every sports team enters a new season with one goal in mind. For the cross country teams, that goal is qualifying for State. In order to qualify for the State meet, the team must place in the top 7 teams out of 24 at CIF Finals, and it's no easy task. For the first time in four years, Laguna Beach boys and girls cross country qualified for and competed at the State meet together on Nov. 25.
"I learned that I can push my athletes really hard, especially on the guys side—since I didn't work with the girls as much," said assistant coach Tommy Newton-Neal. "Coming in I didn't know how hard I was going to be able to push these kids, but I learned that I can push them and the hard work pays off because we made it to State."
Out of the 200 teams in Division IV, only 24 advance to CIF Finals. This year, the boys made it onto the podium at CIF Finals, coming in second, and the girls finished in seventh.. In the school's history, this is the sixth time the boys have podiumed at CIF. This was the boys' 20th consecutive year qualifying for CIF finals and the girls' 15th.
"Seeing the kids set goals, strive to reach them and eventually achieve them was the most special part of coaching this season," said boys head coach Scott Wittkop. "Seeing them realize that hard work pays off will translate into the rest of their lives, knowing that if they put the effort in, good things will come out of it."
The last time the boys and girls qualified for State together was 2013—both placing second.  In 2014, only the girls qualified, placing fourth. This year, the boys placed 6th and girls placed 11th.  
"We set a team goal in the summer to qualify to the State meet," said girls head coach Steve Lalim. "The girls made a goal a reality, and it was amazing to witness a group of girls work hard each day together. They didn't take any short cuts along the way. No excuses. No complaints. They simply got it done."
Junior Ryan Smithers led the boys, placing 8th with a time of 16:05.2 on the 5k course. Smithers truly left it all on the course, as he collapsed on the finish tarp, reaching his foot over the finish line. By placing in the top ten at the State meet, Smithers earned himself a medal and an all-state athlete title. Senior Luc LaMontagne—who was Laguna's front runner for the 2016 season—was second for the Breakers at 16:39.8, 37th overall.  
"Ryan's such an inspiration; he drives me so much, and so do Zach and Cal—that whole pack. Every speed workout, three days a week, we ran as a pack," said LaMontagne. "We call it a car: Ryan and Zach driving it and Cal and I in the backseat asking if we're there yet."
Freshman Jessie Rose led the girls, placing 21st with a time of 19:02.2. Following Rose was senior Evie Cant who, even with a painful hip injury, placed 58th with a time of 20:02.1. Laguna's girls team was entirely new to the State meet besides senior Grace LaMontagne who competed at State in 2014.
"I learned a lot from cross country, and I learned that suffering is worth it," said freshman Jessie Rose. "The sport has given me more confidence, and when you work hard, it does pay off."
Of course, though the athletes are the ones who run the races and work towards qualifying for this meet, the credit is not theirs alone. Without a dedicated and committed coaching staff, it's difficult for even the best athletes to compete at such a high level.  
"The coaches really preached pack running this year and working with your teammates. I think this is one of the main reasons the team did so well,"  said assistant coach Riley Martin. "My perception of cross country being a team sport completely changed this season. I have been running for about 14 years and always thought of it as going out and pushing yourself as much as you can. I still see that as true, but now I see how having others around you helps."
Even though both teams didn't reach the podium, qualifying for State alone takes dedication and months of hard work. At the beginning of the season, the initial goal for the cross country teams wasn't to place in the top three at State, but to qualify in general. Countless grueling morning practices, swim workouts and long runs paid off and allowed them to represent LBHS statewide.
"Running cross country this year makes me appreciate more than just results," said Grace LaMontagne. "I feel just as proud and just as satisfied as when my team got fourth.  Everyone worked past their limit, and that in itself is amazing."