Travels with Charlie: her path to victory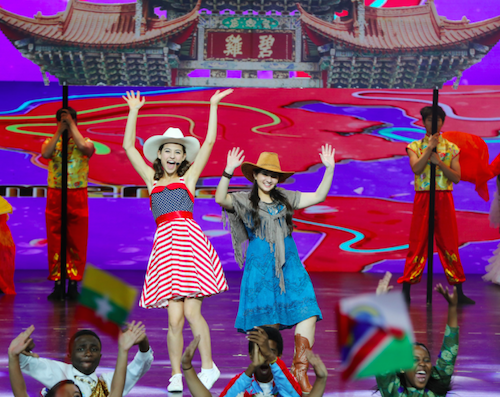 Hannah Vogel , Editor-in-Chief/ Web Manager
November 16, 2017
From Oct. 12 to Oct. 29, Laguna Beach High School senior Charlie Hoffs traveled to China to compete in the Chinese Bridge International Chinese Language Competition. Representing the United States, Charlie and her partner Kaylee Doty competed alongside 106 teams from 96 different countries and ended up as the international victors.
"We took a written test in Chinese on geography, ancient culture and history. We did talent performances. My partner played the Chinese harp and I rapped in Mandarin," said Hoffs. "We ran through a maze rearranging characters into ancient proverbs – all in cowboy hats, mind you. We went on diplomatic visits to pharmaceutical factories and cookie manufacturers. We performed a traditional tea ceremony with local government officials. Finally, for the final Top Five competition, we acted alongside professional actors in a modern rendition of the classic Beijing opera: Romance of the Three Kingdoms."
Chinese Bridge is the largest language competition in the world. Hoffs went to the regional semi-finals in San Diego and was selected as the top Mandarin speaker from Southern California, along with her partner from Northern California. Together, Hoffs and Doty were selected to represent the Western United States.
"Studying Chinese culture reminds me that there's a whole world beyond Southern California. It takes me out of my narrow, daily experience and connects me to the global community," said Hoffs. "The East has its own world of culture, fashion, Internet, history, innovations, social media—and we'll never see it unless we seek it out."
Her interest peaked when she discovered a book on Chinese characters at ten years old. She viewed Chinese as a riddle, so she set out to decode it.
"The book broke the characters into pictograms. Each word was a jigsaw puzzle—different pictures fit together to mean different things," said Hoffs. "My family supported my interest and took me traveling through China. Seeing massive metropolises like Chengdu next to tiny rural villages like Lijiang blew my mind."
Once Charlie and her partner arrived in China, they found themselves surrounded by multitudes of talented contestants.
"The contestants from Myanmar, Kazakhstan, Russia, Mongolia all spoke fluent Mandarin, the kids from Ukraine could run and dance on stilts, and Brazil was a kung fu master—how could we possibly compete?" said Hoffs. "The key was hard work. One time, Kaylee and I stayed up all night memorizing ancient Chinese proverbs. For the Top Five contest, we rehearsed every day for 12 hours straight with the crew."
Hoffs also traveled to China last summer and lived with a host family, adding to her passion for the culture and language.
"One of Charlie's traits is she is able to find the an interesting element in almost every idea or subject, and learn from it," said Charlie's father, Jason Hoffs. "Charlie developed an interest in the characters themselves that are the building blocks of the language. So these basic characters enabled Charlie to start to understand the language and the culture as a whole. And the more she got into it, the more she appreciated the culture."
Not many seventeen year olds can say they are proficient in Mandarin, nor can they say they have represented their country internationally.
"I was honored to represent the USA. Traveling in China made me grateful for my American freedoms. Americans can say, post and think whatever we want, but these rights are not universal. At the final performance, I was proud to run onstage in my stars-and-stripes dress and cowboy hat."