Girls' golf takes a swing at CIF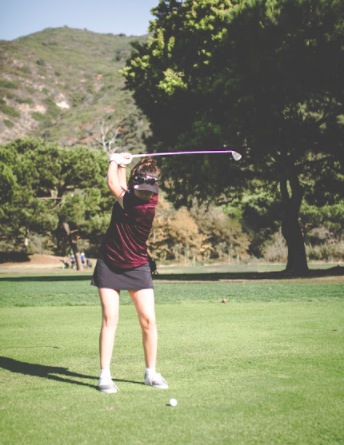 Laguna Beach High School Girls Golf had an exceptional season this year – they were undefeated in the Orange Coast League. Although golf is often characterized as an individual sport, these girls have proven otherwise with their ability to come together as a team.
"Overall, we did amazing! We won our league and made it to the CIF qualifier for team and individuals, as well. This year was our best year with girls coming from all levels of experience and doing so well with their game and improving each match and practice," said team captain BellaRose Robinson.
Although the whole team has done well, three individuals stood out this season with remarkable performance in tournaments and matches. Sophomores Kennedy Roller and Kenya Ripley Dunlap had a great season, along with senior team captain BellaRose Robinson.
"The girls have been extremely motivated, which makes the team's success even more rewarding," said Dunlap.
Changes in coaching have also made an impact on the team. Hendrickson took charge of the girls team as the head coach last year. Many of the girls on the team do not have their own swing coach, which has made his role even more important to the success of the group.
"Coach Quigley, Hathaway and I get to help the girls learn the game. We get to help them understand the swing and teach them the rules. We have a really hands-on approach. When we get to the range, we show them what to do and how to hit the ball. It's really rewarding being a coach, seeing them putting what we teach into practice," said Hendrickson.
The team meets regularly at San Juan Golf Course Mondays through Thursdays. This allows the girls to have plenty of time on the course and the range, although it can be difficult since the course is relatively far away.
During the season, the team had many major wins. They were able to beat Calvary Chapel twice, who came in first for league last year.
"[Calvary Chapel] had a couple really good players, and our girls were able to step up their game. They just performed their best at the most opportune time," said Hendrickson.
The girls have shown their capabilities and have bonded over a traditionally individual sport. Clearly these girls know what it is to be a team and have committed to a very time consuming but fulfilling activity.
"This year's team has really grown into a family of sorts, so matches and practices have been something that I think most of us look forward to," said Dunlap.
As next year's team will be reclassified into the Sunset Division with greater competition, returning players and coaches anticipate another strong season
"I see a lot of success and improvement [in the future]…It's fun to be around these girls that love the sport. They're committed, and they have a desire to improve," said Hendrickson.