Cross Country talent runs deep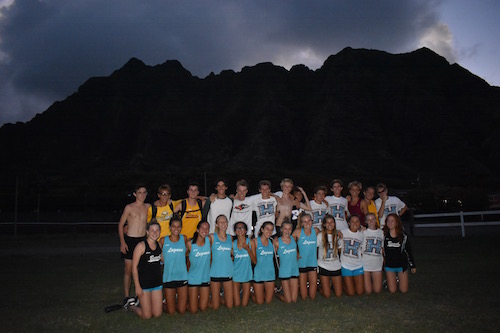 On Saturday, Sept. 9, Laguna Beach Cross Country competed in Oahu, Hawaii at the annual Iolani Invite. A total of thirteen boys and twelve girls were invited to the meet.
"We travel not only to compete against new competition, but to give the kids life experiences and memorable moments," said boys cross country coach Scott Wittkop. "Traveling with your athletes builds a family; you get to know your students when you're with them in hotels or ranches for 20 to 30 days within a season."
Senior Evie Cant won first place in the girls varsity race with a time of 17:37, setting a course record, and the girls varsity team placed 3rd out of 24 teams.
"I felt amazing the whole race! I didn't struggle until the last 400 meters," said Cant. "It felt very weird to win a race, and I didn't expect any of it! Especially my time!"
The boys team was led by junior Ryan Smithers in 12th place with a time of 16:05, with the boys varsity team placing 4th out of 23 teams.
"The best part of the trip was spending time with my team at the beach in Honolulu," said Smithers. "There were no third wheels and no one barred from participating. This was so special to me because it shows how close cross country is. It's a family."
Both varsity teams this year have talented freshmen running for them. Mateo Bianchi, currently the boys number 4 runner, is now ranked as one of the fastest freshman in division four in the state.
"It was an incredible privilege to go to Hawaii and compete at the varsity level," said Bianchi. "I felt like I was able to show the coaches what I'm capable of."
Both varsity teams are working to make it back on the podium at the CIF State meet. Head coaches Scott Wittkop and Steve Lalim hired assistant coaches Riley Martin and Tommy Newton-Neal in order to help bring the teams back. Both ran for UC Irvine.  
"We chose coach Newton and coach Martin because of all the things they could bring to the program," said Lalim. "They both bring running experience from their success in high school and at UC Irvine. Their experience, their knowledge and their ability to run with any of the athletes on the team make them so valuable."
Coach Newton is an alumnus of LBHS and ran varsity cross country under Dave Brobeck from 2006-2010. Prior to assistant coaching at LBHS, he was an assistant cross country coach at JSerra.
"There are a lot of different aspects of coaching that you don't see as an athlete, said Newton.  "As an athlete, you focus on yourself and running fast. As a coach, you have to think about the different levels of runners or what runners are injured; you have to think about what workouts will prepare them for races—you have to think about the culture you're creating on the team."
Competing at the State meet is one of the greatest achievements athletes can receive in cross country. On October 7th, the teams traveled to Clovis, Fresno—the State meet course—to compete in the 5000 meter invitational. Evie Cant finished second out of 133 girls. Girls varsity placed 2nd out of 31 teams, boys varsity placed 7th out of 36 teams in the varsity medium schools race.
"I want to go to State because in Cross Country, it's the highest level you can compete at," said junior Emily Engel. "My freshman year, my teammates Grace LaMontagne and Pearl Shoemaker talked about how motivating and rewarding the experience was. If we make it, it would be a huge accomplishment."