LBHS hosts friendly Pi day competitions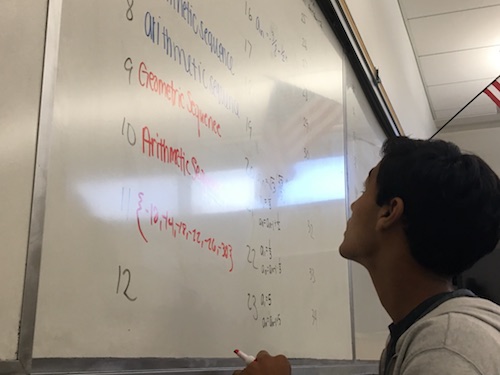 Hang on for a minute...we're trying to find some more stories you might like.

On Tuesday, March 14, Laguna Beach High School's very own math teacher, Steven Bogusiewicz, held a math competition between his Honors Algebra 2 classes.
"I wanted to break things up, and make it more fun," said Bogusiewicz.
In honor of Pi Day, the prominent teacher thought a little competition between the two sets of peers would be a great way of celebrating, while also challenging the students to work together and agree upon an answer.
"I was a lot of fun; the competition made everyone come together as a class," said sophomore Sydney Davidson.
Davidson found participating in the competition was a great way to connect with her fellow mathletes and further her mathematical knowledge while enjoying an entertaining and interesting math class.
"Everyone was coming together and problem solving, not just in math, but on how to be more effective and how to double-check our answers. It was a very interactive class period," said sophomore Kiyara Tehrani.
Almost every student viewed the class as interactive, fun, enjoyable and helpful. It seems as if Bogusiewicz made the right choice in creating this special Pi Day competition.