Boys cross country team takes traveling to new level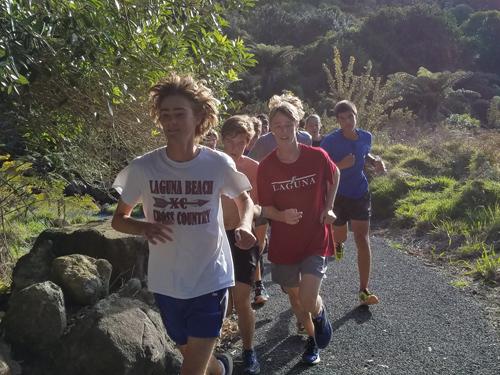 Over the summer, and throughout the school year, the boys cross country team has traveled not only the state, but also the globe. This past year, the team partnered with Auckland Grammar, an all-boys school in New Zealand, and acted as each other's host families.
"Traveling to New Zealand was an opportunity for kids to travel, learn about different cultures as well as team bonding," said boys cross country coach Scott Wittkop. "We did amazing things: cultural dinners, ran in the California Redwoods there, walked on suspension bridges, ziplined and toured the entire northern part of the country— we even went skiing. For me, I think the trip from start to finish was a highlight."
Before the boys went to New Zealand, all travelers partook in reading a book by John Wooden, an extremely renowned college basketball coach, which discussed success and gave the boys an opportunity to provide their own meaning to success. In addition to the reading, they were also encouraged to set goals for themselves.
"As a whole, the trip was a learning experience," said junior Luke Colburn. "We learned a lot —possibly too much— about each other. Nothing can bring you closer to another person than traveling together, than eating, sleeping, flying, exploring and running together."
While in New Zealand, the boys stayed with host families and ran an average of nine miles per day, averaging around 60 miles per week during their two-week stay.
"New Zealand was my first foreign country," said Colburn, "and I now feel prepared to visit others. I am now a global organism. I have connections to the opposite side of Earth through the warm friendships and experiences I have gained. This shift in perspective was the ultimate highlight of the trip, and it was most intense—for me— when we visited the Maori village; we sang songs and heard music that inspired a spiritual sense of connection."
In addition to traveling to New Zealand, the boys varsity cross country team, comprised of the top seven runners, embarked on a road-trip to Stanford, where they raced at a highly competitive meet and placed ninth out of thirty-four teams. Junior Luc LaMontagne came in first with a time of 16:48.5 on the 3.1 mile course followed by sophomore Sebastian Fischer and junior Dylan Miller.  
"Competing at Stanford was extremely intimidating," said LaMontagne. "Just by looking at the other runners, you could tell they were fast. However, I did have fun running on a college course with new competition."
While up in the Stanford area, the team ran around the campus at Stanford, went to Cal Berkeley, taking the BART system there; watched the college homecoming game; spent a night in San Francisco and visited Alcatraz.
"I was not happy with my time and placing," said LaMontagne. "I felt like I should have gone faster, even though I tried my hardest, but it was not my best race."
Also, on Oct. 14, the entire boys team traveled to Clovis (Fresno) in order to compete on the State meet course. The varsity team ran the traditional 5k while the JV and frosh-soph ran a 2.1 mile course.
"A good memory from the Clovis trip would be hanging out with my team by the hotel pool and buying Little Caesars across the street," said freshman Tanner Burton. "I could have done better in that race, but I have improved since then."
Overall, the boys cross country traveled on four major trips this year: New Zealand, Morro Bay, Stanford and Clovis; the varsity team hopes to make it back to Clovis for the State meet; this is also the boys' 19th year making it to CIF. Next year, the boys are traveling to Utah and Hawaii.
"I run cross country to follow in my dad's footsteps and run marathons like he does," said Burton. "My goals in cross country are to soon break 18 minutes in a three mile race, then 17, and then 16. Then I will be able to finish first in the races. Cross country has given me endurance, and I have learned to keep pushing myself to the limits."