Rowing breaks through the current of typical sports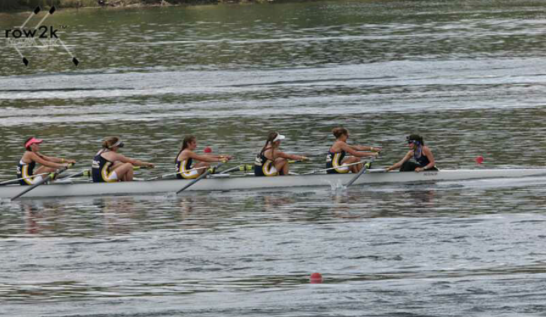 Hang on for a minute...we're trying to find some more stories you might like.
LBHS students are known to compete in a variety of sports, ranging from football to soccer, but one that often goes unnoticed is crew.
"Our practices are from 3 to 6 p.m., Monday through Friday. I also row with the older group from 6:00 to 8:30 on Saturdays, so it turns into a really big time commitment," said junior Jessica Morrell.
Practicing for over 15 hours a week takes a toll on these students; although this schedule is necessary in order for the athletes perform well in the races, valuable time for schoolwork is lost.
"Many of us can't start our homework till around 7 p.m., and we need to handle our time well. I'm normally up until 12:30 a.m. every night, and some rowers get up early to finish their homework because they're too tired when they get home," said senior Maya Clemons.
Often, rowers have to learn how to get ahead by planning their day out in order to finish everything on time.
"Practice basically consists of trying to get our technique perfect, because any little movement can make the boat offset and that makes us go slower. The goal is to be fast as we can and get across the finish line," said sophomore Alexis Yang.
Many factors go into a successful race, from creating the right amount of friction with the water to making sure everyone is rowing at the same time in order not to change the boat's movement.
"Colleges recruit a lot of rowers, and since not many high schoolers row, there is a high chance for you to get recruited," said Yang.
Since crew is a fairly unique sport, colleges may be attracted to applicants involved in something different.
"I'm currently talking to USCD right now, but I'm pretty late in the process of reaching out to colleges, so hopefully it turns out well," said Clemons.
Contact with universities is important if one is interested in playing on a college team. Unknown to many who haven't watched a race, the team is made up of not only rowers, but also the coxswains.
"Alexis and I are both coxswains. We are basically the directors of the boat; we sit in front of the 62-foot-long boat and verbally steer the rowers inside the boat. There are usually eight people per boat, and we have to lead them so we don't crash into buoys, navigate turns, and finish the course," said Morrell.
It is the coxswain's job to keep track of the progress and to steer the boat into the right direction. Commanding the movement of all the other rowers, the coxswain is arguably the most important role. Communication between the rowers and the coxswain is key, and this can get tough when there are eight rowers on the boat with the coxswain.
"We row around Balboa Island in Newport Harbor, and there are other teams in the area. We share a channel with Newport Sea Base Rowing, who is kind of our rival," said Clemons.
Other than the Newport Aquatic center team, there are many other teams that compete in the surrounding area. The Newport Sea Base Rowing is another team that competes closer to home. Sharing the water with the team creates a friendly rivalry.
Many start rowing because of their family connections to the sport, but some also are introduced to the sport through friends or discovery on one's own.
"My dad was a founder of rowing in a college in Maine, and my brother also started rowing. Since my family was rowing, I tried it, but since I was too small to row, I became a coxswain. My whole family is involved with rowing, and I want to continue that legacy," said Morrell.
The physical challenges involved in crew are remarkable.
"What a lot of people don't know is that it works your whole body, not just your arms. If anything, your legs are the most important. The sport is not the same as kayaking or outrigger because the technique is way different," said Clemons.
Since the seat moves with you as you row, your body starts to rely heavily on your legs in order to propel the boat through the water.
"Sadly, we don't get P.E. credit for the sport, so we have to do sports through the school to get the needed credits," said Yang.
Because of its title as a "team sport," students cannot receive independent P.E. This forces many of the rowers to take other sports for all four years, plus rowing, in order to fulfill their sports credit.
"Even though the school does not give credit for the sport, I still love to row and will hopefully continue to do so into my college career," said Clemons.