Journalism jams out at benefit concert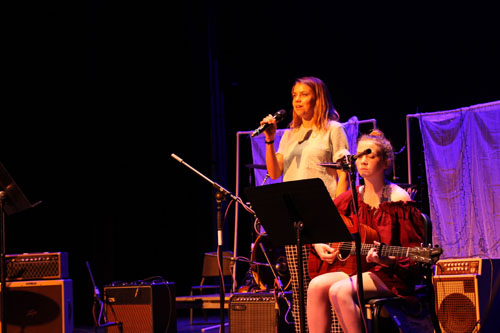 Hang on for a minute...we're trying to find some more stories you might like.
This year, the LBHS journalism class held its sixth annual "Brush and Palette Concert" on Sept. 30 in the Artists Theatre in order to raise money for the nonprofit Brush and Palette newspaper.
Music roared throughout the night with performers like Rosie Morreale, Alex Wilson, Addie Briggs accompanied by Liam Yates, sisters Ellie and Malin Glade, Mr. Shapiro, The Dharma Bums and French Por**. Senior Rosie Morreale took the stage first, singing spectacular original songs while playing the guitar.
"My favorite part of performing has to be sharing my original songs because they are a small piece of who I am," said Morreale.
Second to perform was senior Alex Wilson, who sang "Bubbly," by Colbie Caillat, in astonishing fashion seeing as it was her first ever onstage performance. Wilson dedicated the song to her close friend Karly Peterson, who was among those in attendance.  
"The best part of performing is getting excited about it, and seeing your friends and family come out to support you," said Wilson.
Next, sophomore Addie Briggs, accompanied by senior Liam Yates, performed "Nervous" by Television and "Where did you Sleep Last Night?" by Nirvana.
"My dad has always played the guitar; he used to play for me and my little brother. He had a guitar around the house, and I just kind of taught myself how to play over time," said Briggs.
Sisters Ellie and Malin Glade put on a unique performance, singing the song "Wolf," a Swedish folk song.
"Performing is altogether an amazing thing, but my favorite part is sharing my voice with the crowd and watching them enjoy it," said Malin Glade.
Mr. Gary Shapiro, a retired LBHS math teacher, performed next. His familiar sound filled the Artists Theatre with his smooth voice and harmonious guitar.
"I would like to thank Brush and Palette for including me in their concert. I appreciate the thought. As a reminder, my 29th Shap Show, No Suits Allowed #29, will be on Saturday, January 28th, 2017. Please see Mrs. Gregory to sign up," said Shapiro.
Up next, alumni act The Dharma Bums put on a grand performance with their laid back grunge style music, playing songs like "If Will Smith Could Rap" and "Mac D."
One benefit of the concert is that it provides many student performers a rare opportunity to showcase their talents.
"To perform in front of your peers is really, really fun. It's nice being able to show a little bit of yourself to those who otherwise wouldn't know of your talents," said senior multi-instrumentalist Elijah Meisse, who performed auxilliary percussion for The Dharma Bums.
The concert had wild ending when the two-man band French Por**, comprised of senior guitarist Liam Yates and alumnus drummer Fox McMillan, took the stage.  Students in attendance crowded the stage and danced freely.  Alumnus Kevin Nicholas closed the show with the same energy Yates and McMillan had established.
"Music is an opportunity to express things that can't be put into words, which is why I hate writing lyrics. It's also a good way to connect with people in a super archaic way," said Yates.
Brush and Palette wishes to thank the musicians and attendees for their support of our fundraiser.  Our paper is non-profit and predominantly internally funded.  Financial independence plays a large role in producing authentic student journalism. Money generated through fundraising and print advertisements go toward the following ongoing costs: newspaper printing; camera, video and sound equipment; web-hosting services; and summer camp for developing student leaders.  Brush and Palette wishes to thank the SchoolPower for previous grants for summer development programs.
Brush and Palette also wishes to thank Kirsten Landsiedel for continuing to organize this event despite not being able to take journalism this year!