LBHS introduces new engineering elective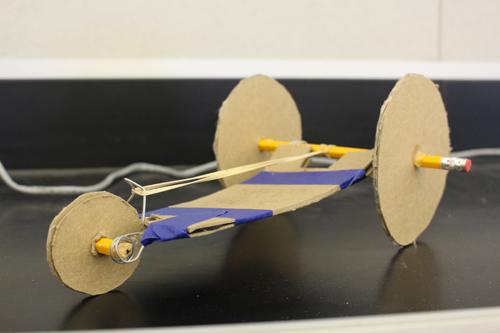 For the 2016-17 school year, Laguna Beach High School has introduced a new elective science class, Intro to Engineering, taught by Jennifer Merritt. This class allows students to gain a hands-on learning experience in what a career in engineering may be like.
"The main objective is to teach engineering habits of mind," said Merritt. "Engineering begins with the consumer and meeting their basic needs, and from there it's creating and designing an efficient product."
So far this course is only available to grades 11-12, as students must have previous experience in physics, or be currently enrolled in physics. The current enrollment in this course is male-heavy, but the goal for the future is to make the course half males and half females in order to encourage girls to gain experience in the science field.
"I plan on possibly pursuing a career in Biomedical Engineering," said senior Arianna Brenes. "I'm excited to take this course to learn about the mindset of an engineer and challenge myself to think outside the box."
The thought for introducing this course into the LBHS bell schedule has been around for awhile. Over the past few years, Merritt has visited various high school campuses to observe their programs and to gain insight on how this would benefit LBHS students.
"I am excited to learn how engineering applies to our everyday life," said senior Evan Haglund. "After I take this class, I will decide if I plan to pursue engineering after high school. This course will allow me to see what the different types of engineering entail."
Over the summer, Merritt attended a two-week training course at the University of Texas in Austin to prepare for the class. The camp included three different training sessions with 30 teachers in attendance from 8 a.m. to 5 p.m. every day. The training sessions she attended brushed over the exact same projects and lesson plans that will actually be taught throughout the school year. She plans to follow the curriculum she learned at camp but refine it as well to fit the needs of students here at LBHS.
"I would love to incorporate our solar boat club into the class, along with including local community-based problems," said Merritt.
Students have expressed their interest in the course and possible career in this field and hope this class will become more popular in the future. Also, students who are currently enrolled in this class are excited to see the engineering process in a hands-on way, to help them determine whether or not they would want to pursue this as a career. Merritt is ready to celebrate student success, but she is also prepared to lead them through real-world trial and error.
"It is okay to fail. The goal is productive failure," said Merritt.