LBHS says goodbye to athletic director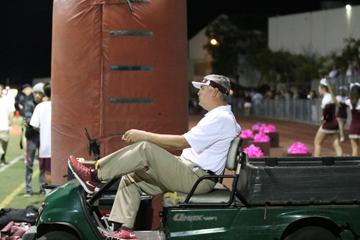 As many of you may know, our esteemed athletic director and head football coach will be leaving LBHS at the end of this year. He has received several offers from other schools for both head coaching and teaching positions.
"I was offered the head coaching and a teaching assignment at Gladstone High School in the Azusa Unified School District. In the last week, a second school has come forward and expressed interest with me here in Orange County," said Clarke.
Clarke came into LBHS and took over the head coaching job of our football program. He has laid the groundwork for our football team to build on in the coming years. As of June of 2015, the football team only consisted of 14 players, not nearly enough to make up an entire team. Clarke came in and added much needed structure to the program. This attracted many new and former players to join the team, giving them enough players to make a full program. Although it may not have shown on the scoreboard, Clarke has for the first time in years given our football program a chance at success in the future.
"This was a year of growth for me as a football coach and as an individual. It really helped illustrate to me where my strengths are and where my weaknesses are," said Clarke about his year at LBHS.
As the head coach of the football team, Clarke had the opportunity to instill his knowledge of the game and life into a group of young players.
"Coach Clarke is such a nice and genuine person. He really helped me get in contact with colleges for sports, football and baseball. I respect his leadership qualities and that he is always willing to listen,"  said senior football captain Jack Simon.  
During his time here, in addition to coaching the football team, Clarke had the chance to witness several new sports first hand and learn more about each of them.
"The year's highlights were working with the football team that I got to work with. I adored my players—Being able to experience water polo. It was neat to be able to watch and learn a new sport at a high level—It was also outstanding to see our girls and boys volleyball teams and our girls and boys basketball teams play at such a high level and make it as far as they did in CIF," said Clarke.
  Coaching football in the past has restricted him from witnessing many of the fall sports such as cross-country, volleyball and water polo. However, this year he made a point to get to watch as many different sports as possible.
"Seeing the work ethic that all of you have and to be able to observe you guys as athletes prepare and then put that preparation into game time—I really did value that," said Clarke.
 Although his time here was short, Mr. Clarke worked hard all year to better our sports programs and the lives of the players he worked with.
"I'll miss most seeing him throughout the day, and how he asks how I am doing every day. I'll miss knowing that there is always somebody I could talk to for anything," said Simon.