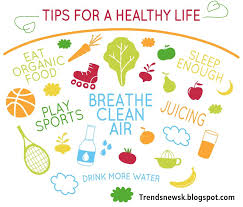 Having a healthy lifestyle is critical to living a good life. Let's look into why it is so important to learn about and share some tips to help. Having a healthy lifestyle can improve your health mentally and physically.   
For our physical side, regular exercise can strengthen our muscles, cardiovascular health, and can improve everyday activities. It also reduces the risk of heart disease and many other health problems. Make sure to make time for all of the day-to-day activities and sports you want to do. Whether walking, soccer, dancing, or swimming, ensure you also have a healthy body weight. Being obese puts you at a much higher risk of getting diabetes, cancer, heart problems, etc.
Our mental health plays a significant role in a healthy lifestyle. Good well-being prevents a tremendous amount of stress and makes us feel excellent overall. However, when you don't have mental stability, it can take a significant toll on your health. It affects how we think, feel, behave, and most importantly how we handle everything in our brains. Spending time outdoors is also necessary because we aren't built to get stuck inside sitting on screens. Sadly, a statistic shows that Americans spend, on average 87% inside. 
The most important part is eating healthy. Almost 46% of adults in the U.S. have unhealthy diets. Make sure that your diet is very well-balanced instead of cutting out one thing in particular. Many foods have sugar, but some can have natural sugar or added unhealthy sugar. Next time you have a meal, make sure to add various foods. Limit a lot of junk food, sodas, and candy, and watch how many processed snacks you consume. If you need inspiration on what to eat and how to make healthy snacks, look on Pinterest or cooking websites. 
Sleep is a must when living a healthy and good life. Doctors recommend teenagers get 8 hours of sleep per night and adults should get 7 to 9. Everyone should create a nighttime routine and a suitable sleeping environment. The most important thing is to limit screen time in general, but most significantly right before bed.