Coach Fleming leaves Beach basketball legacy to former player
After 32 years, Bret Fleming, the boy's basketball coach, passed the torch to Rus "Soob" Soobzokov, whom he coached at LBHS through Soobzokov's senior year in 1994. Fleming was offered the position in 1985 by a friend coaching LBHS football at the time and, despite initial hesitation, he quit playing for a CIAA team in Fresno and began coaching in 1990. During his time here, he coached a total of 27 seasons. 
Early in his career at LBHS, Fleming coached Soobzokov, who always posed a threat beyond the 3-point line. 
"Rus was just a kid that absolutely loved basketball. It was not the most talented group I had, but they were energetic and fun. It was an enjoyable group to coach," said Fleming.
His favorite memory, which he described with a smile, was when Soobzokov was playing on the JV team and scored seven three-point shots within the first half of the game. 
"He has been with me a really long time, and his knowledge of the game is terrific. He understands the game and how it's supposed to be played," said Fleming. "[Soobzokov] has this demeanor with kids that's a little more soft-spoken and yet still maintains discipline and gets kids to play the right way."
One of the challenges Fleming faced throughout his tenure was the school's small size. 
"Our count was smaller than everybody we played, but I was fortunate to have kids that worked really hard, and I think the lesson taken away from that would be that you can accomplish anything through hard work and dedication," said Fleming.
Fleming has found comfort in his decision to retire from coaching.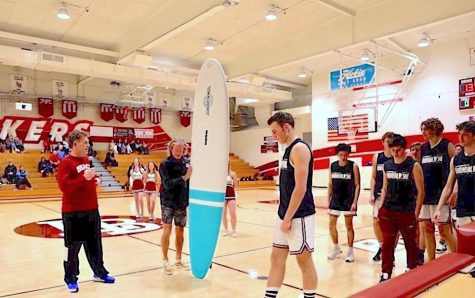 "The fact that I knew Rus was going to be the person to follow me gave me a lot of relief that the next person was going to continue what I had established here," said Fleming.
---
Already a prominent figure at LBHS, Soob has earned his spot as the future leader of the boys basketball program. He's garnered support throughout the program, from lowerclassmen to upperclassmen. 
"I want to continue our winning tradition with our local students. Other schools are able to recruit players, but here in Laguna Beach, it's more fun winning with our own kids and beating teams that recruit," said Soob.
Although this last season varsity went 8-20, JV went 7-18 and the frosh/soph squad finished with a 16-11 record, the teams are sure to improve in years to come as Soob and his teams find the perfect system. Rus & Co. are sure to make a splash with a lot of young talent coming up from the younger teams, and the CIF Southern Section should keep an eye out for the Breakers.
Despite not having the best showing this season, the coaches and players found a family amongst one another, putting in the hard work together on the court, as well as sharing good times at one another's homes for team dinners. 
"The message I hope to get across to my players is that hard work and teamwork will beat talent. As we are seeing in this NCAA tournament [March Madness], teams that play together have been winning," said Soob.
Besides being the head coach, Soob is currently a campus supervisor as well as a substitute teacher. He finds personal relationships with his players extremely valuable, and puts time and effort into each and every one of them.
"Rus taught me how to play the game of basketball with a clear mind. I am able to take this and use it in the real world by focusing on whatever I'm doing, without any distractions," said senior Ben Neufeld.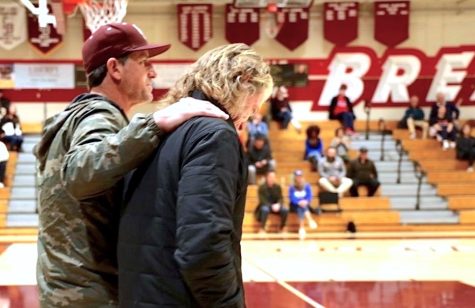 Both Fleming and Soobzokov have left long-lasting impressions and imparted life lessons among their athletes. 
Nolan Naess, whom Fleming coached from 2017-2021, currently plays for the mens basketball team at United States Military Academy at West Point. 
"My best memory with Coach Fleming was during my freshman year banquet," said Naess. "Usually at banquets at the end of the year, it is all praise, but Coach Fleming's honesty stuck with me. I realized that he wholeheartedly believed in me as a person and me as a basketball player."
One of the biggest lessons Naess took with him was grit, which he applied during the traditional end-of-the-year run up the entirety of Park Avenue, where, at the "summit," Fleming would hand out wristbands.
"I still have my GRIT wristband at home, and I have a picture of it that I look at often to remind myself to never quit and always have GRIT!" said Naess.
While Beach basketball has meant many things to the players and fans over the years, at this moment in time, it likely means a little bit more in the hearts and the minds of Fleming and Soobzokov. 
"LBHS has always been my home. I graduated here in 1994 and felt I never left. Coach Fleming taught me about loyalty, which I have when it comes to LBHS. I want to thank Coach Fleming, Dr. Selbe and Dr. Allemann for trusting me in the continued success of our young men," said Soobzokov.