FLOW Week hosts world-renowned environmentalists
Building upon the successes of its inaugural year, LBHS's FLOW (Fire, Land, Ocean, Water) program hosted prominent environmentalists from across the country to speak to the student body in the Dugger Gym from Nov. 7 through Nov. 10. FLOW connects the passions of student leaders with the visions and cross-curricular design of teachers to build a united and environmentally conscious school community.
A different guest speaker presented during every Tutorial period throughout FLOW Week. Each speech was geared towards a different grade level and their respective portion of the club's mission. Rich German spoke to freshmen about Fire, Evan Marks to sophomores about Land, Shaun Tomson to juniors about Ocean and Pete McBride to seniors about Water. This year, FLOW Week partnered heavily with the LBHS art program, allowing a large number of students outside of the club to play active roles in the project.
"I helped paint FLOW-themed murals that were placed outside in the quad," said 12th-grade AP 2D Art student Rain Duong. "It was fun to promote environmental awareness through art."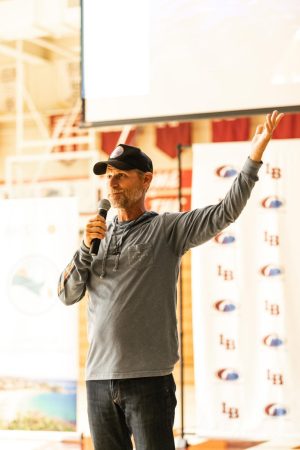 Philanthropist, photographer and entrepreneur Rich German spoke about his passion for conserving our oceans. In 2017, he founded Project O, a non-profit organization dedicated to protecting the ocean's sacred life and creating sustainable cities. German also recalled stories of whales and dolphins he has encountered, as he has been photographing them every day for 12 years.
"The generation before me and my generation started these crises in our oceans," said German. "You are the generation to change this."
With a background in permaculture and agroecology, Evan Marks has worked in many countries to encourage sustainable practices. Marks later founded The Ecology Center, an environmental organization based in San Juan Capistrano, CA. Here, Marks educates and shares different perspectives on food and agriculture, encouraging students to regard themselves as advocates for a healthier future.
"We have to care for this planet, and it has to care for us," said Marks. "It's all we have – we don't have another choice."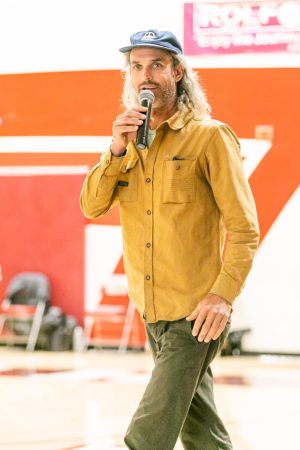 Born in Durban, South Africa, Shaun Tomson is a World Champion surfer, entrepreneur and best-selling author. As a professional surfer, Tomson holds deep respect for the ocean. He shared his passion for marine conservation with LBHS juniors and empowered them to use their voices to advocate for nature.
"Our own words have the greatest power of all," said Tomson.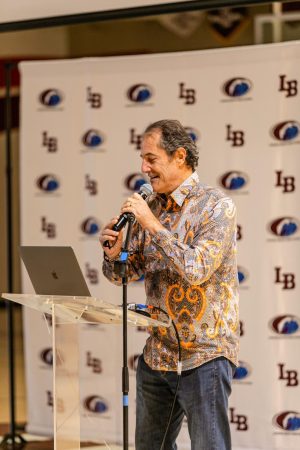 Seniors had the opportunity to listen to the self-taught photographer, filmmaker and writer Pete McBride speak about his journeys to over 75 countries. After a decade of exploring nature's wonders – from Mount Everest to Antarctica – McBride decided to focus on his beloved backyard river, the Colorado. His short film "Delta Dawn" depicts his attempts to environmentally restore and chase the Colorado River back to the sea. McBride emphasized his passion for healing our world.
"Nature has a lot to say if we stop and listen," said McBride.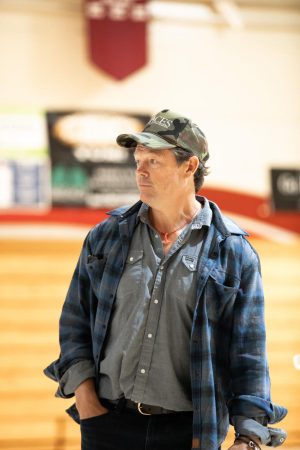 Beyond inviting guest speakers and filmmakers to share their experiences in nature, FLOW Week, above all else, empowers students to make a difference in the world, no matter how small each act may be.
"It's difficult seeing negative news about climate change, but it's comforting knowing that with teamwork, we can do our part to save our planet," said 12th-grade vice president of FLOW Club Isabela Reichel.
"I think FLOW Week was a success! I was so proud of our student body for their engagement and interest in the presentations," said English teacher and FLOW TOSA Mrs. Sarah Benson. "Students can look forward to some dynamic FLOW projects in their English classes in January, as well as some wonderful service opportunities in the spring." "We are excited to bring back the FLOW Senior Service Day meal-packing event that we did last year with Kids Around the World, as well as some new, special projects that we are working on."