Laguna's own Bella Rasmussen makes history
On Friday, Oct. 14, senior running back Bella Rasmussen changed the course of women's history in sports by being the first female football player in the state of California to score two touchdowns in one game. 
Taking on the Godinez Fundamental Grizzlies in their senior opener, the Breakers started off red hot, scoring on consecutive drives and running away with the contest. With a little over 10 minutes remaining and the score reading 34-0, the defense forced a big strip-sack on Godinez's 7-yard line. As the offense trotted back on the field, Rasmussen checked in at running back. She finished the drive with a 4-yard inside run, barreling through linebackers and powering into the end zone.
"I remember already being pretty emotional coming off the field, but when I ran into my mom, I really just burst into tears," said Rasmussen. "I was crying to her saying, 'I did it, Mom!' and she said, 'You did it, baby!' It was a great moment for me and was a bonding moment for [the two of us]."
On the ensuing drive, sophomore linebacker Declan Murray took an interception 44 yards to the Godinez 20. Once in the red zone, Rasmussen took an inside run for 12 yards down to the 1. The very next play, she scored her second touchdown of the night.
"When Bella scored her very first touchdown on the frosh-soph level, I was waiting for her on the sideline. I jumped up in the air with her to do a shoulder bump," said senior cornerback Noah Landa. "It was super cool that I was able to do it again our senior year with her after her second touchdown, and it'll be something I remember forever."
The accomplishments on the field are often fueled by the supportive relationships built between teammates over the course of many shared seasons.
"Noah and I have been talking about that moment in freshman year for years now," said Rasmussen. "It was always 'now to score on varsity this time.' In the midst of all the chaos, he actually remembered to go up for the shoulder bump again. It was awesome to share that moment with him. We were stoked."
Rasmussen became the 8th girl in California to score a touchdown in a varsity game, and the first to do it twice in the same night. She quickly received media attention from popular sources such as the LA Times, KTLA and CBS News, among others. Bella was invited to attend the Rams game on Oct. 16 at Sofi Stadium, as well as the Chargers game to shoot the cannon on Oct. 23. 
"Bella was able to be a part of a special Chargers tradition, shooting the cannon right before kickoff. All eyes were on her," said senior and football captain Micah Chavez. "She was on the jumbotron and was interviewed by four different broadcasters. The Chargers even made her a custom jersey with her name and number on it. It was awesome."
This media attention has been understandably overwhelming for Rasmussen, as she has never seen anything like it in her four years at Laguna. Popular Instagram accounts such as @chargers, @nfl, and @onherturf have featured her in posts that have exploded. Through all the life-changing events during the past few weeks, she says her favorite part is a special letter sent to her by a young lady.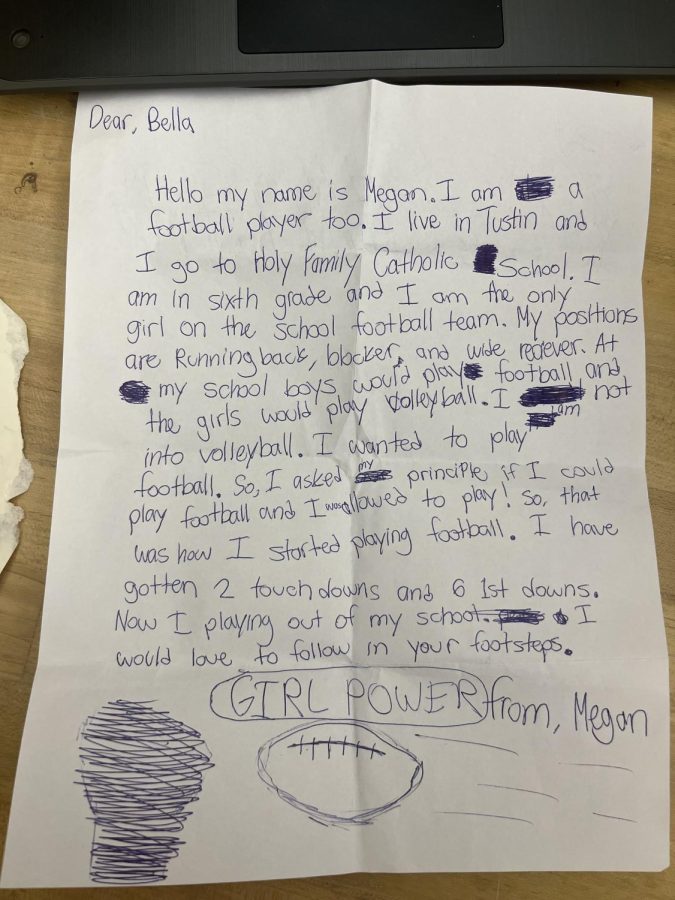 "I had a little girl who plays football in Tustin send me fan mail. It was the cutest thing ever," said Rasmussen. "Other than that, I'd have to say the NFL's shoutout. How freaking cool is that!"
Despite this attention, Rasmussen still values her teammates above all else – they have grown up with her all this time and are incredibly proud of her accomplishments, just as they would anyone else on the squad.
"It must be difficult being the only girl on the team for four years, but she has inspired future girls and LBHS students aspiring to play football or any sport," said senior and football captain Sam Garwal. "She challenges our players and makes them better each and every day."