Park Avenue Players celebrate family, love, and acceptance in LBHS's Fall 2022 play, She Kills Monsters
Opening in the Artists Theatre on Friday, Oct. 28 at 7 p.m., the dramatic-comedy She Kills Monsters brings the world of a fantasy role-playing game to life. Written by Qui Nguyen (who is attending a show!) and directed by LBHS's new English and Theatre teacher Meghan Minguez-Marshall, the action-packed play emphasizes the importance of family relationships, love, and acceptance.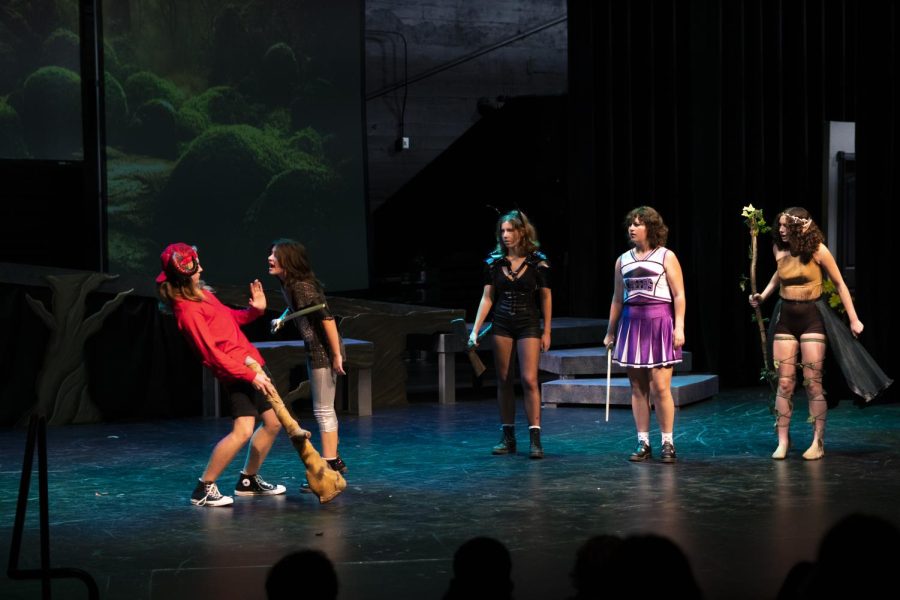 Minguez-Marshall's past professional roles provide a foundation for her commitment to celebrating diversity through the arts here at LBHS.
"I've spent the last three years running a Latine theatre company with a ton of other Latine artists and BIPOC artists. I was the managing director of that for a time, and I have my degree in drama," said Minguez-Marshall. "I have experience as an actor, director, costume designer, producer, and stage manager, but my heart is in directing, and I love directing youth."
In addition to the entertaining storyline and action-filled scenes, She Kills Monsters features a same-sex relationship with a same-sex kiss in the show. The performance also includes scenes that depict the bullying of an LGBTQ+ character.
"The overall message that shines through speaks to the love and acceptance of all people and celebrates our differences as human beings," said Minguez-Marshall.
In her first year at LBHS, Minguez-Marshall has embraced her role of teaching both drama and English.
"I really, really wanted to teach both. I didn't just want to do one or the other," said Minguez-Marshall. "And this is a very rare position; I don't know and have never heard of any other school opening a position like this. I like to work with youth and make art, and I consider English an art as well. I love Laguna, and I feel very welcomed here."
Putting on any show does not come without its hardships. The staff, actors and crew work through individual struggles in order to provide the greatest performance possible. 
"I think time is the biggest challenge. Everyone has different schedules, and in this show, the fight scenes are definitely unique and require time but are one of the most rewarding things if you ask the cast," said Minguez-Marshall.
Audiences can expect to see veteran performers challenged in exciting, unexpected ways. 
"My biggest challenge is definitely the stage fighting," said senior and lead performer Scarlett Wheaton, who plays protagonist Agnes Evans in the play. "Keeping active and making it look as real as possible while fighting and falling has been crazy."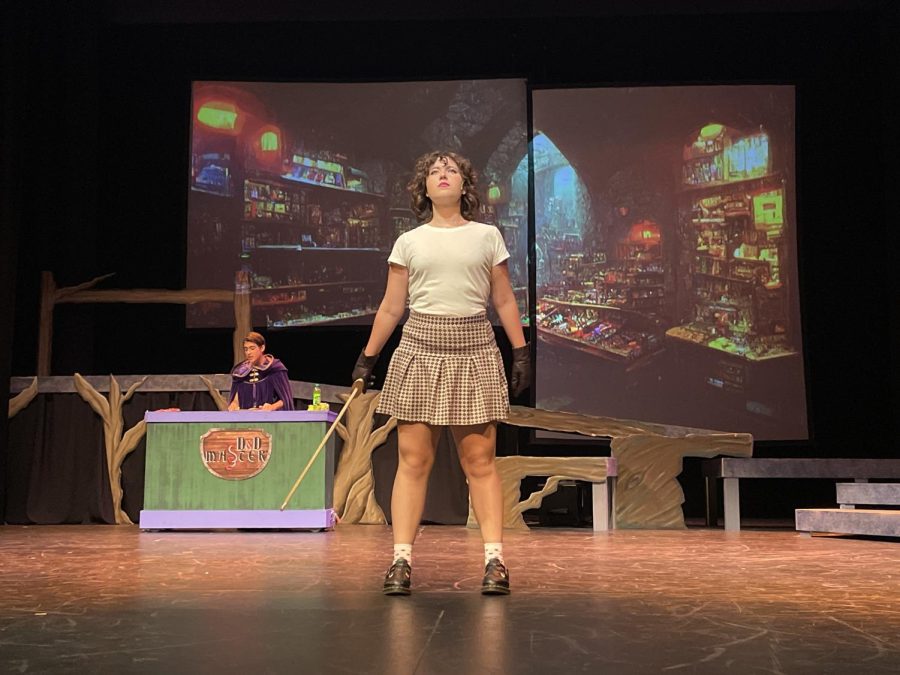 Senior Kate Trevino, acting as Kaliope, an agile dark elf, has a unique challenge in her acting role.
"Kaliope has no emotions, but she still has to act. It's hard to have a personality but not have emotions," said Trevino.
Junior Ayla Keller plays the monsters Wraith, Bugbear and Tiamat.
"I would say the biggest challenge in the play is the time commitment. It gets difficult to manage schoolwork and a tight schedule," said Keller. 
However, there are many aspects of the show that the actors have to look forward to.
"I'm most excited about the audience that this play reaches! We finally have a play that is aimed at high schoolers, geeks, cheerleaders and LGBTQIA+," said Wheaton. "I've been acting since I was a kid at South Coast Repertory Theater, No Square Theater and the Laguna Playhouse. This is my first lead in this big of a production, and I'm so excited for our performances!"
All involved in the play's production are eager to share their collaborative talents with the community.
"I'm really excited to see it come together with costumes, lights, etc. and see the energy it has with an audience – and I'm excited to master my fight choreography," said Trevino.
Audience members are sure to be delighted by the visual splendor achieved by the crew, technicians, and theatre manager, Mr. Brian Des Palmes, another new addition to LBHS this year.
"I am really excited for all the tech aspects included in the production this year. She Kills Monsters has a lot of action scenes and mythical monsters, which inherently come with a lot of tech and special effects aspects. This is something that we haven't done a lot of in previous years here, so it was exciting to know that this production would include all of that," said Keller.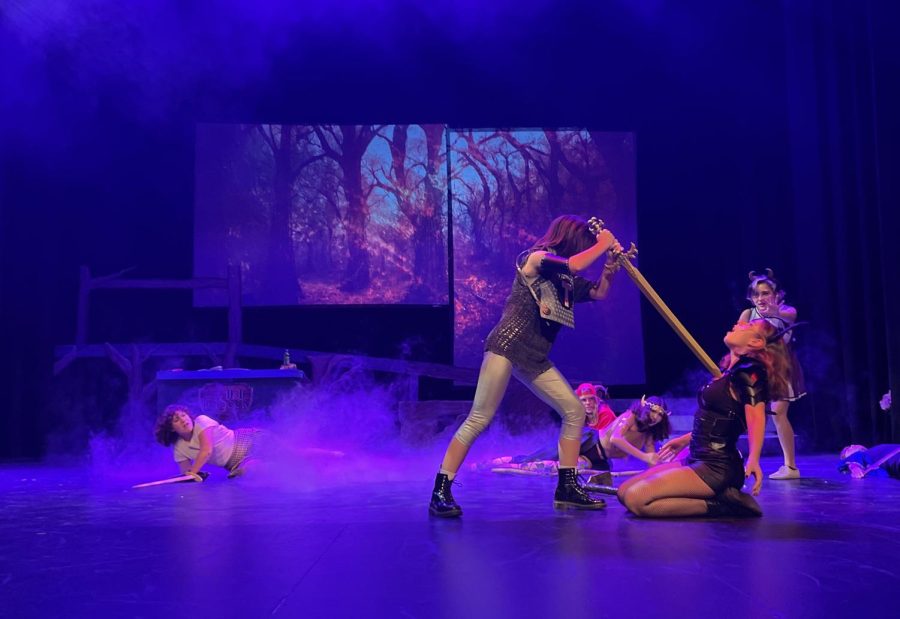 For students wondering how they can be involved in future shows, Ms. Minguez-Marshall and the rest of the drama department wish to remind that all are welcome to audition for future performances. Drama builds lasting friendships and welcomes anyone and everyone, no matter their experience level.
For those who will appreciate She Kills Monsters as audience members, enjoy the action and humor. Remember to take in the play's message of importance of family, and know that we are all worthy of love and understanding — regardless of our differences.
"We are telling this story for the kids who cannot," said Minguez-Marshall.
Please come watch LBHS's production of She Kills Monsters to support the many hardworking and talented actors, staff, and crew at LBHS! You can buy tickets at lbhs.booktix.com.
PLAY SHOWING TIMES
October 28 at 7:00 PM
October 29 at 7:00 PM
October 30 at 2:00 PM
November 4 at 7:00 PM
November 5 at 7:00 PM
November 6 at 2:00 PM