What It Means To Be Breaker Strong: The Honorable Paul J. Watford (LBHS Class of 1985)
During Distance Learning last year, I wanted to find inspiring stories about Breaker alumni.  When searching for a person of interest, the name Paul Watford came up. He is one of LBHS's most successful graduates. Watford played basketball for our school, back when we were known as the Artists. Not only was he a terrific basketball player at LBHS, but after he graduated, Watford went on to become one of the most important federal judges in the country. 
Watford is a Judge with the United States Court of Appeals for the Ninth Circuit, which is the nation's largest federal appeals court that covers California, including Laguna Beach. He has been identified as a potential United States Supreme Court nominee under President Obama and the Biden-Harris Administration. Following his graduation from LBHS in 1985, he went on to graduate from UC Berkeley and UCLA School of Law, turning down a college basketball scholarship offer to pursue academics. Once he completed law school, he served as a law clerk for Justice Ruth Bader Ginsburg on the United States Supreme Court. Judge Watford then served our country as a federal prosecutor in the Major Frauds Section of the U.S. Attorney's Office here in Southern California, where he prosecuted a wide range of federal criminal cases. Following his service as a prosecutor, he joined a private law firm where he worked on appeals, and was one of the very best appellate lawyers in the country. President Obama then nominated Watford to serve our country as a federal judge, and his nomination was confirmed by the Senate. He currently serves in his lifetime role as a federal judge, while making time to serve as treasurer and board member of Neighborhood Legal Services of Los Angeles County, a nonprofit organization that provides "pro bono" legal services to the poor.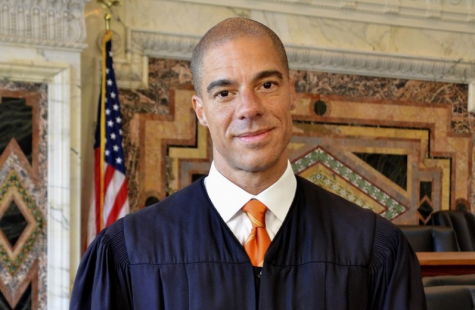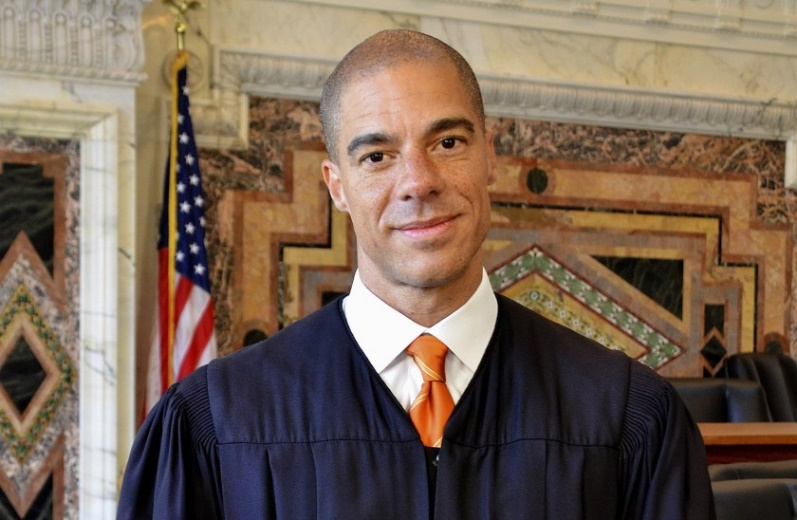 (Depicted is Judge Watford on the 1984-1985 LBHS basketball team, top, and a more recent picture of him wearing his judicial robes inside one of his courtrooms, bottom.)
After reading about Judge Watford, I had the opportunity to speak with him earlier this year and learn more about this star LBHS alumnus.  His favorite memories from his time as a student at LBHS were playing basketball under Coach Faulkner, who was the LBHS basketball coach before Coach Fleming joined LBHS. Judge Watford also ran track his freshman year, but his real passion was basketball, so he decided to focus on that.  He was on the JV team the beginning of his sophomore year and then got promoted to Varsity the second half of that season, but he wasn't a starter until the end of his junior year. He describes it as "the joy of playing basketball." He played point guard. He would have preferred to be shooting guard.  Judge Watford's LBHS basketball team even played a tournament in Hawaii. That Hawaii tournament stands out as a really great memory for Judge Watford because it was a great team bonding experience. He learned so many life lessons playing basketball: the need for discipline, putting in the hard work at something you are passionate about, the teamwork, and, as he put it, "you want to do everything you can to make each player the best they can be."  
When asked if Judge Watford remembers any of his teachers who had a positive influence on him, he immediately recalled his English and writing teacher at LBHS named Mrs. Carson.  She taught him great writing skills, which became very important in Judge Watford's chosen career as an attorney and then as a judge.  Judge Watford also shared why he wanted to become an attorney and judge; as an attorney, he wanted to help people solve their problems and, as a judge, he wants to help decide who is right in a dispute and help people to peacefully resolve their dispute, to give them a fair hearing, and to allow both sides to feel they got a fair hearing.  
The conversation with Judge Watford ended by asking if there is any advice he wishes he would have received while he was in high school. He did not hesitate in his response, stating that the most important advice any high school student should receive is to pursue your education and plan on attending college. He was more interested in pursuing a college education than playing basketball in college. Even though he got offered a scholarship to play basketball at Washington State (while a scout walked by and saw him shooting hoops at Main Beach), he instead decided to attend UC Berkeley to pursue his higher education. It is clear that this star LBHS alumnus made the right decision, serving as an inspiration to current and future generations of Breakers.