Embrace Club Q&A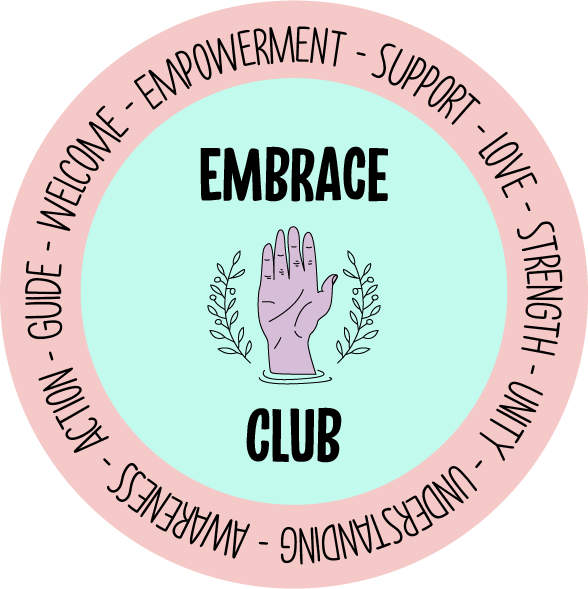 Q: How does your club meet safely during the pandemic?
A: We meet via Zoom but would love to meet in person with Covid safety guidelines one day.
Q: What short term and long term goals does your club have?
A: Our short term goal is to focus on different topics of the month! Our long term goal is to help spread kindness & to have a circle of life long friendships that embrace every walk of life!
Q: Does your club give back to the community? If so, how?
A: The club gives back to the community by communicating and Giving an outlet for all individuals to speak on certain personal and world wide issues.
Q: What unique experiences or opportunities do members of your club gain?
A: Our members gained a sense of comfort and confidence in their own skin.
Q: How might other clubs, admin, teachers, students, or broader community help you with your club?
A: Other individuals could help spread awareness about our club. We hope that by doing so our number of members will increase to get the word out. Our President Nikki Asghari wants in the near future to make Embrace Club a non-profit organization.
Q: Can students get community service hours from attending your club or any of your events?If so, what would this experience look like?
A: As of now, we do not have services for students to collect community service hours.
Q: What does your club strive to solve or achieve?
A: Our club strives to embrace everyone and their differences.
Q: What is unique about your club?
A: Our Club is unique because we have different individuals from all walks of life that share the same core values.
Q: Is there an activity you all find particularly engaging?
A: Due to covid our meetings have resorted to presentations via zoom. These presentations cover current events, special holidays, and awareness months.
Q: How did you come upon your club in the first place, or why do you uphold it? Was there a defining moment of experience that served as a call for action for you to take on leadership in this area?
A: A majority of us felt that there was not as much inclusivity throughout our school. We feel that every aspect of kindness, communication and bringing people together to celebrate differences should be a top priority.
Club President and Contact Info

Nikki Asghari

(949) 212-3011

Other key members' names, titles, contact info

Jordan Trautwein (Vice President)

(949) 537-8115

Tatiana Tobin (Secretary)