Senior Shout-outs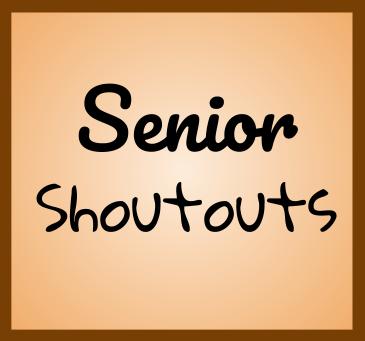 Will Clark: Shout out to Mr. Brusky for four years of journalism!
Travis Clark: Sogo was the best teacher.
Hannah Levinstein: Mrs. Quigley — Thank you so much for being the best, most caring, and hilarious teacher out there!
Jack Reed: Mrs. Merritt, for caring a lot about her job and just being an all around great teacher.
Christopher Hynson: Brusky, for trying to help me out to go to prom…
Curran Hendrickson: Mr. Hendrickson, Thanks for being my dad.
Jennifer Medina: Mrs. Greco and Mrs. Moores, for both being great teachers to me as well as mentors. They really care about their students and want to see them grow.
Katie Radabaugh: Thank you to Mr. Billinger, for always having my back and my best interest in mind.
Kali Russel: Thank you to Mrs. Hunnicutt, for being one of the best and most enthusiastic teachers who never failed to make me laugh and taught me valuable life lessons.
Jett North: Thanks Mr. Finn  for everything you've done for me over the past 4 years.
Liam McCue: Mrs. Merritt, for being the best teacher and inspiring me to try to become an engineer.
Molly Cohn: Shout out to Mrs. Quigley for letting us play cards in class (post-AP test only of course).
Cici Stewart: Shout out to Mrs. Quigley for being the best teacher at dabbing- and furthering my math knowledge.
Kayla Coscino: Scott Finn and Dr. Allemann for always supporting me about surfing.
Claire Lattin: Ms. Holtz! Thank you for being patient with Katie, Emily & me when we were loud and crazy;) We love you & are so excited for you to have the baby!!!
Kate Calderas: I would like to thank Lara Greco, for being not only an amazing teacher but an amazing person, she taught me that if I really put the work into something it will pay off.
Natalie Bush: I would like to thank Jen, for always being so nice and making our campus a enjoyable place.
Charlie Dickerson: Huge thanks to Mr. Sogo, for providing us with such unique research opportunities in ACR.
Miles Orr: Coach Fleming, for always motivating me and keeping me in check when needed.
Kyle Shaw: Thank you so much for always making class enjoyable Señora Garcia.
Patrick Kelly: Mr. Todd, Thank you for going the extra mile to help your students not only in the classroom but also in their lives.
Wesley Witteman: I would like to give a big shout out to Senora Johnson. I was in her spanish class for 3 three years. She's always help me get good grades and has been there for me. If you respect her and ask for help, you will get the grade you want.
Cutter Clawson: Hendro!!! You made class fun everyday and do things that no other teachers do. With the walk in songs to the positive energy you brought day in day out, you made me look forward to english everyday. Thanks for all that you do!
Eden Pfanner: Thank you Odile, for encouraging us throughout the year and helping us prepare for the AP test while at home.
Cromwell Anaya: I want to thank Mr.Garvey for being a good example and a great teacher!
Gigi Woods: I want to thank Megan (campus supervisor) because she always makes me feel confident in myself and encouraged. She is so sweet and is always there to talk. I just love her.
Laura Bianchi: I'd like to thank Madame Odile, for her endless positivity and generosity throughout the years.
Lea Schaffer: Shoutout to Mrs. Park, for being a great science teacher and making science enjoyable.
Piper Warner: Holtz! Congrats on your baby and I hope he/she is academically average, but a great person! 🙂
Amanda Lara Rossini-Hein: I want to thank Mr. Brusky, for giving me a space to dive into literature, writing and my own opinions.
Saba Saffarian-Toosi: Shout out to Mrs. Quigley and her love for aliens, astronauts, and baked beans!
Iris Sewell: Thank you Mrs. C, for giving me so many opportunities to excel and for encouraging me to explore the professional world of dance.
Armand Garcia Amini: I want to thank Mrs. Merritt, for always helping me make up work for the days I've missed school.
Dylan Brashier: I would like to shout out Mr. Todd because I highly respect the way he teaches and conducts discussions in his class.