Senior Advice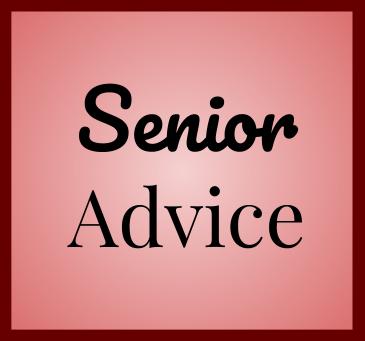 Hang on for a minute...we're trying to find some more stories you might like.
Gee Harduvel-Brown: Don't take yourself for granted, and don't let others walk all over you.
Will Clark: High school goes by way faster than you expect, so enjoy it.
Claire Kelly: Don't stress because everything works out.
Travis Clark: English gets more and more boring.
Sofia Salvino: Senior year is actually hard.
Geneva Tripoli: Do not worry about who you're friends with and who you're not friends with.
Jesse Maya: Cheating is sometimes worth it.
Justin Bruyntjens: Homework is important and school gets harder, not easier.
Nick Darby: Have fun and study hard!
Olivia Jenkins: Don't worry about what others think of you. Just be you!
Bella Fonk: "Strike hard, trike fast, no mercy" -Drake Butler
Hannah Levinstein: Take regular english.
Lalia Garcia Amini: Get involved. Go to all of the school dances. Be bold and get out and try new things. You're only in high school once.
Jack Reed: Stop caring about what other people think of you because once you get past that its way easier to be happy with who you are and focus on whatever you want.
Christopher Hynson: Suck up to your teachers/predecessors.
Curran Hendrickson: Get involved, its super fun.
Jennifer Medina: Don't be afraid to ask teachers for help if you are struggling. It will help you grow as a student and will make you a good candidate for PRIDE awards.
Leonard Wallstein: You don't need a car. Biking saved me thousands of dollars.
Skye Wilson: Biggest life lesson at LBHS: If you're five minutes late you might as well be 30 minutes late to class, either way you're late.
Katie Radabaugh: Focus on education. Try not to care about the people who don't matter. Don't waste your time being sad.
Kali Russell: Never sell yourself short and always try your hardest. I learned that hard work and not procrastinating really pays off in the end.
Ashley Dudley-Depalma: Freshman year matters
Hannah Konkel: When you know you are doing something right for yourself, make sure others understand what you are doing but don't let them stop you
Liam McCue: Have fun.
Ruby Amodeo: Just keep studying, don't check your phone and tell yourself you're taking a break because you are lying to yourself.
Molly Cohn: 1. Take time to actually figure out what you like to do (helps a lot when choosing a major) 2. Actually reading books is fun 3. Senior year is the hardest year, NOT junior year.
Claire Lattin: 1. If you care about your mental health, please take a free period. 2. Everyone says that senior year goes by really fast. Well, it doesn't, so be prepared. 3. Netflix got me through this year. Get ready to watch a lot of it.
Lucas Austin: Don't cheat on your girlfriend.
Noah Linder: Taco Tuesday at Feast is mandatory.
Jack Strickland: Starting and finishing essays the day they are due is possible
Gretchen Webb: Work hard, don't procrastinate, and get Quigley to dab.
Andrew Stanaland: While high school is very important, it isn't the end of the world if you don't do well in a class you're not specializing in. If you do poorly in English, a school that specializes in math won't care as long as you don't fail.
Gustav Julius Morck: Putting the effort into your work will change the way you work throughout your high school career
Kate Calderas: I have learned to keep my eyes on my own paper.
Natalie Bush: It's not cool to not try in school. Also, live it up while you have limited responsibilities.
Zacharias Falkowski: Each year goes by faster so enjoy every moment of it.
Cal Nielson: It's always a great day to be a Breaker.
Taylor Magee: Be respectful to teachers.
Peyton Fullerton: Don't procrastinate with homework.
Sarah Hollinshead: Don't be afraid to leave California for college its going nowhere
Adam Filiano: I learned that's it's always a good idea to smile every day
Chloe Flanagan: Please don't study until 2am. When it turns 10, head to bed.
Miler Orr: Every student stresses too much, break everything down to the basics "Am I breathing? Yes. I am going to live"
Lucas Escobar: It's a nice school and you'll do great.
Eric Cortellessa: Do the busy work. It definitely serves no purpose and will waste your time, but it will help your grade.
Garrett Smyers: Stay focused
Kyle Shaw: Just be yourself and live your own life.
Brandon Lam: Do every extra credit assignment possible.
Patrick Kelly: Get your community service out of the way early
William Dowell: Work at your own pace. Don't stress.
Gwen Bates: snakes are everywhere, watch out
Andrew Martinez: Don't take yourself too seriously.
Wesley Witteman: Success is a peace of mind which is a direct result of self-satisfaction in knowing you did your best to become the best you are capable of becoming.
Cutter Clawson: Befriend everyone.
Jack Yeager: Get your driver's license last or your friends will ask for rides
Dylan Smith: There will be a lot of stress but don't worry it's your last year
Eden Pfanner: Make a separate email account for college-related things. It will save your inbox from lots of junk
Anaya Cromwell: Get to school early for parking.
Kai Ball: Enjoy senior year because it goes by fast
Pablo Ladislao: Stay consistent with your school work. Highschool will be way easier.
Brandon Moore: All I can say is the people in the bathrooms…
Gigi Woods: Don't try to be cool
Laura Bianchi: Don't overthink the dances, just go.
Lea Schaffer: I learned that the best memories come from the time spent with friends and that sports don't become so bad when you have great teammates.
Jayden Kovacic: Do not stop until you are done
Piper Warner: Create relationships with teachers and admin! The more they know about you, the more opportunities become available, even some that can redirect your high school experience.
Amanda Lara Rossini-Hein: Honestly, don't overload yourself with AP classes. If you actually want to do them for college credit, just take courses at community colleges- they're easier and more likely to be accepted for university credit.
Iris Sewell: High School is not forever
Armand Garcia Amini: I learned how to fail, but grow through those failures.
Lola Fisher: I learned how to fail, but grow through those failures.
Jake Francis: Just have fun and don't care what anyone says.
Allie Evans: Actually start your college apps on time so you don't create unnecessary stress
Logan Ledger: You will not be productive during your free sixth, and you will get into college.
Kate Gilles: Park behind the district
Sam Kluver: Don't take school too seriously. Most find themselves through the lack of caring about school.
Kerin Onodera: senior guys aren't all that hype
Jordan Wilson: DONT TAKE LOTS OF APs!
Sidney Williams-Goldberg: Work hard while you still have the chance
Mason Lebby: Be weird
Chloe Bryan: Talk to Mrs. Bergen, you won't regret it.
Dominic Nozzarella: There's more to life than high school. At this point in your life, high school may seem like the most important thing that will ever happen to you, but I promise you that this is only a small chapter in your story.
Thomas Emily: Do not stress about getting into big-name colleges.
Emma Gibbs: Play music really loud in the morning in your car so people think you're cool
Annalise Kramer: I learned that balancing school work is an important skill to have.
Kiyara Tehrani: Don't be afraid to try out for or apply to things, the results may surprise you.
Sofia Pfanner: Don't put too much pressure on yourself to be perfect because you can only learn from your mistakes.
Allie Evans: Get your college apps done as soon as you can – it'll prevent a lot of extra stress
Colton Gregory: Have fun with your friends but remember your here for school at the same time.
Jared Angus: Your teachers won't change your grade by arguing it, save your breath.
Thomas Dubey: Play in band
Kelly Smith: Enjoy it while you can
Sophia Balliet: You gotta get to school at exactly 7:13 for good parking
Zoe Campbell: the blue striped spot in the mormon parking lot is chill
Melissa Young: Don't overwhelm yourself with hard classes, it's not worth it
Camille DeMilly-Otteson: Enjoy every year like it's your last, you'll regret not doing so your last year
Jameson Roller: Don't think you can't try and do well in school
Josh Rubow: Leave the school greener than you found it.
Bryn Gioffredi: To always work hard and to savor the moments you have with your friends and teammates because once you leave it will never be the same.
Sasha Kvitsinski: Learn to care a little bit less and life will be much smoother.
Alexis Yang: Everything works out.
Cienna Wunder: Don't worry about trying to fit in bc at the end of the day it won't matter who knows who. Study hard and focus of yourself bc that's someone you know you can rely on your whole life
Sam Reynolds: Be nice to your teachers
Fernando Barraza: Enjoy it while you can.
Haley Colton: Take classes you are interested not ones that look better on college applications because you will always do better in classes you are interested in
Scott Yoder: Don't wait for a girl you like to talk to you
Sydney Davidson: Take many elective classes! They are a great opportunity for exploring interests and learning new skills.
Connor Sorensen: Get a job now.
Ben Vogel: Don't stress too much, and try to enjoy your time in high school.
Makayla Klug: Try harder
Jake Joiner: You will have more fun in life when you take out judgement and just have fun. You will learn to appreciate people and not just those you call your friends right now. Keep your mind open and bring people into your life you normally wouldn't
Summer Harvey: It's not about the type of clothes you wear or the car you drive, It's about how kind you are to kind you are to others.
Noah Haymond: Don't procrastinate because it will hurt you in the long run.
Ryan Smithers: Place yourself in uncomfortable situations, try different things that you've never done before. I personally started running around Junior year, and it changed my life.
Claire Knill: Don't stress about college
Will Purdy: Don't vape in the bathroom
Anna Madigan: learn how to manage your time
Ashley Flores: Always do your homework, I mean academically and the world because it us that you will on with your journey.
Rusty Hunter: Appreciate every day and tell your friends you love them