Hard work pays off for boys track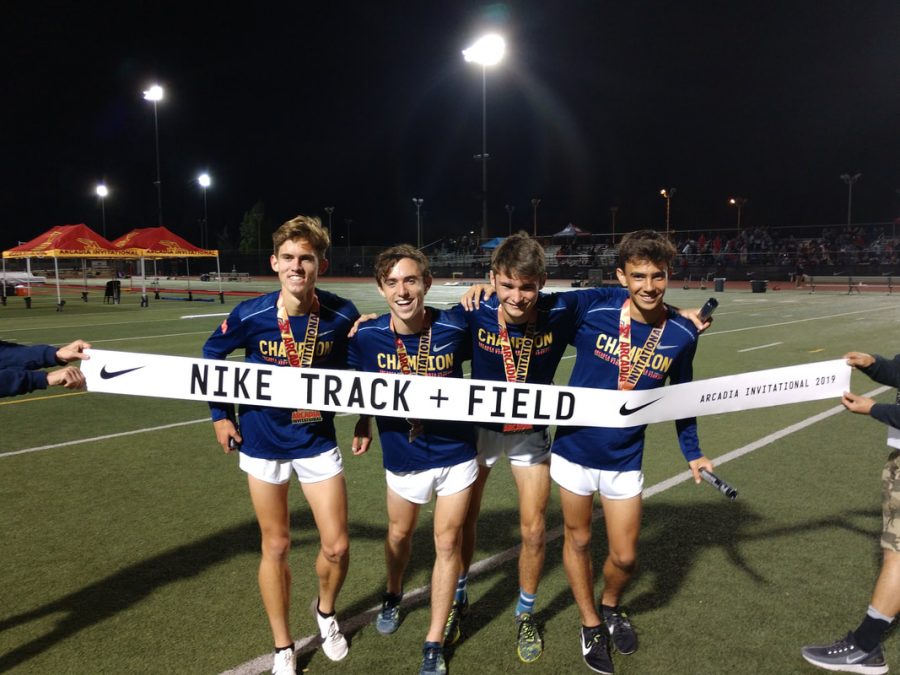 This spring season, the boys distance track team has exceeded expectations. The squad continues their winning ways, building on a Division 4 California Cross Country Championship, due to their tireless work ethic and team bond.
"Our team chemistry is the most important aspect of our success because it allows everyone to push each other to work even harder. I think a lot of our success comes from knowing that we're all friends doing it for each other as well as ourselves," said sophomore Mateo Bianchi.
Arguably their greatest accomplishment of the season was their win at the 4×1600 relay at the Arcadia Invite, one of the biggest and most prestigious track meets in the country. The 4×1600 team is made up of seniors Ryan Smithers and Sebastian Fisher, junior Logan Brooks, and sophomore Mateo Bianchi. Their time, 17:27, ranks as the number one in the United States for the 2019 season. On June 16, the team will compete for the national title.
"Every single member of the 4×1600 team has an incredible ability to push themselves beyond their pain threshold. At practice, they run NCAA D1 college workouts and handle them without a problem,"  said Tommy Newton-Neal, head boys track coach and assistant cross country coach.
Bianchi, who ran the first leg of the winning 4×1600 relay, has been not only one of the best runners in the state for his age, but one of the best in the U.S. He ran a 9:25 two mile, which is currently second in California and 14th in the nation for sophomores.  
"He has an outstanding potential to be one of the best runners Laguna Beach High School has ever seen. As an athlete, Mateo has the ability to become one of the top runners in nation, but that will depend on how hard he is willing to work over the next two years," said Newton-Neal.
Two leaders of the team, Smithers and Fisher, have grown into top runners in the nation, setting a hardworking precedent for the underclassmen to strive for. Their times also rank atop many of the all-time track and cross-country records at Laguna Beach, leaving a lasting impact and legacy on the track and cross-country programs.
"As athletes, they put everything that they have into being successful both on the track and in the classroom. Not a day goes by that these two don't give 100%. Additionally, they are kind, compassionate and caring leaders that have a positive influence on the people that surround them. There is no doubt in my mind that they will be successful students and athletes at their respective schools," said Newton-Neal.
On Thursday, April 25, Laguna Beach competed in the Sunset Conference "Wave" League Finals, with the top few finishers in each varsity event moving onto CIF Prelims. For the distance team, Mateo Bianchi, Ryan Smithers, Sebastian Fisher and Logan Brooks qualified in the 2 mile, and Sebastian Fisher and Zach Falkowski qualified in the mile. The CIF Prelims meet is on May 4 at Estancia High School.
Come out to an upcoming meet to support this year's historic team!