Easy BBQ chicken pizza recipe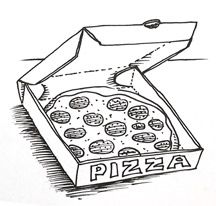 makes 1 serving of a Stoneware Naan-sized pizza
Other recipes with these ingredients: Rotisserie chicken: Middle Eastern Grain Bowls // Cheddar cheese: nachos
Prep Time: 5 minutes
Cook Time: 10 minutes
Total Time: 15 minutes
Ingredients:
1 pre-made pizza/flatbread crust – I recommend any Stonefire Authentic Flatbreads product (read why on the Grocery Guide page)- I always use their Naan for the perfect cooking-for-one size. Note, if you use any of their bigger flatbreads or pizza crust, double the rest of the ingredients to make sure you have enough to cover the pizza. If you want leftovers for lunch, use a Stonefire Flatbread, which is about the perfect size to cut in half and have half for dinner and bring half for lunch the next day!
2-4 tablespoons BBQ sauce
1/4 cup shredded cheese (Cheddar or Mexican blend)
Handful of shredded chicken (I recommend rotisserie chicken, which is basically 0 prep time since it's pre-made and you just need to shred some. If you'd like to bake your chicken, use 1 chicken breast. Add 15 minutes to prep time.)
1/8 of a red onion
Cilantro or chives to garnish, Optional
Dietary Substitutions
Dairy Free: Skip the cheese, or use a dairy-free cheese!
Gluten Free: Grab a gluten-free pre-made pizza crust, like this crust from Udi's.
Vegetarian-Friendly Substitute tofu
Vegan-Friendly Combine dairy free & vegetarian recommendations. Note, this is not the best recipe to adapt for vegans.
Directions:
Preheat the oven to 400°F.
Spread 2-4 tablespoons of BBQ sauce (to taste) evenly onto your Stonefire-brand crust.
Sprinkle 1/4 cup shredded cheddar or Mexican cheese onto the pizza.
Add a handful of shredded chicken, distributing evenly.
Slice 1/8 red onion thin and sprinkle onto the pizza.
Warm the pizza in the oven until cheese is melted and pizza is hot, about 10 minutes.
Top with chives or cilantro to garnish.