LB Basketball makes history heading into CIF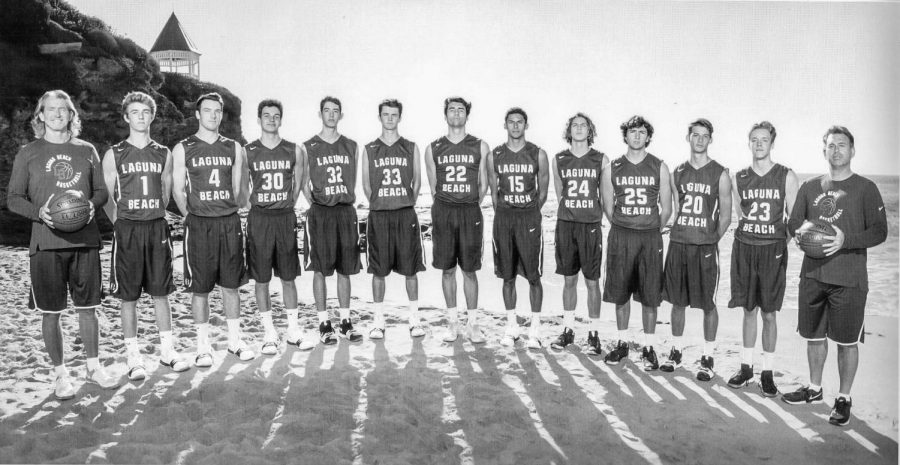 Ranked No. 2 in the CIF bracket, Laguna Beach boys basketball had its first CIF game last night. With a record of 25-3 in the regular season, this year's Breakers have drawn comparisons to the 1962 Artists who won CIF.
"A big difference between the '62 team and [this team] is [that this team] is a lot faster. We would have a hard time keeping up with [this team], and we weren't slow," said Ron Lutz, a star player on the record-setting 1962 team. "We had some wins [with margins] that were near 15-20 points, and the games were over before halftime."
According to LBHS statistician Frank Aronoff, this year's team has the top three highest margins of victory—the highest was a 69-point win against Calvary Chapel. This not only shows the Breakers' dominance, but it could also be explained by the addition of the 3-point line in 1987 and the game's faster pace.
Although they have been focused on the main goal, winning, the Breakers leave quite a legacy in the record books. Senior point guard Charlie Rounaghi holds the career assist and steal records, while senior forward Blake Burzell holds the records for career rebounds, 3-point baskets and points scored. Burzell is the first Laguna Beach player with over 2,000 points, passing Lutz in all-time scoring.
"I thought that those records would stand for a while, but records are made to broken. Burzell is very good," said Lutz, whose all-time career scoring went unbroken for 54 years.  
In addition to individual records, the 2017-18 Breakers have broken several team records and could possibly break more.  In addition to the highest margin of victory, they hold team game records for assists (31 against Saddleback). Along with game records, they hold the best regular season record ever at 25-3 and went undefeated in league. If they have a successful CIF run, they will unseed the 1962 team as the winningest team, including playoffs.
"Right now the route to CIF for this team in division 3AA will be a lot tougher than my junior year because we played smaller schools [in division A]," said Lutz.
One of the Breakers' strengths is their team play and ball movement.
"We have all been playing together since elementary school, so we know how to play with each other very well. We have a great team chemistry, and we know when to pick each other up," said senior guard Grady Morgan, a top scorer and outside shooter.
The post-season is the six seniors' final opportunity to be on the court together.
"We play our hardest every game, knowing this is our last season," said senior guard Owen McMurray, a strong on-ball defender with play-making skills.
One starter, freshman forward Nolan Naess, has everything but experience. Naess has stepped up, averaging just under 10 points per game and playing solid minutes for the team.
"Nolan brings a breath of fresh air to a group of seniors. His transition to varsity basketball was very easy, and he fits in very well with our group," said Rounaghi.
The group's disciplined defense and sound fundamentals could help their chances in CIF.
"You need to be ready to work hard and be a team player to play under Coach Fleming. His players will learn a lot of skills both on and off the court," said Coby Naess, former assistant coach under Fleming, and father of freshman Nolan Naess.
Senior Adam Armstrong exemplifies the hardworking, teamwork mentality.
"Adam does all the dirty work for the team such as taking charges, getting rebounds and hustling, which really helps the team," said McMurray.
The team is undefeated in league and won championship titles at the Grizzly Invitational and the Charlie Wilkins Memorial Tournament. Since 1961, LBHS has won only seven in-season tournament titles.
"I think this year's team might be the best team there has ever been at Laguna Beach… I will see this team at numerous playoff games," said Lutz, with emphasis on the word numerous.