Northern California fires fuel memories of the past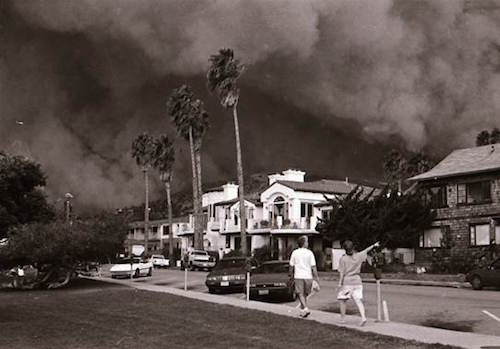 Last month, a series of fires caused by dry conditions and high winds ravaged Northern California. According to the California Department of Forestry and Fire Protection, an estimate of 6,000 homes were completely destroyed and almost 14,000 damaged, with 217,000 acres burned on top of that.
"The amount of devastation was enormous. It is chilling to see photos because the same thing could easily happen in Laguna. Especially after the hot weather we had a couple weeks ago, we should all be extremely cautious and prepared in case of a fire in Laguna," said senior Maxwel Blanchard.
These recent California fires have served as a haunting reminder of the past for many Laguna Beach residents. Almost 24 years ago on the morning of Oct. 27, 1993, reports flooded in of a brush fire on Laguna Canyon Road. For the next couple hours, firefighters struggled to contain the flames, which eventually jumped the fire wall and quickly spread into Laguna Beach and Emerald Bay.
"I was at school teaching in the trailer on the football field while my classes were being built. We all went out on the football field and the hills were burning; we could all see the smoke," said French teacher Odile Dewar.
In total, over 16,000 acres of land burned that day. By the time the fire was finally contained, it had already destroyed 400 homes and caused 528 million dollars in damages. 25,000 people had been evacuated. The fire was reported at 11:50 a.m., and it was not until 12 p.m. that night, almost 12 hours later, that the fire was fully contained.
"It felt like what I imagined being in a war zone was like because the fire was coming in very quickly. It happened in a very short time and suddenly came up the Canyon. What was weird is that everything got dark, and then there were planes flying low all over Laguna. It was like we were being bombed. Everything was burned, and the smell lasted for a long time," said chorus teacher Roxanna Ward.
These fires will forever serve as a reminder of the danger of brush fires to our small town. After the fires of 1993, Laguna Beach residents realized the need for change in the town's emergency preparedness.
"People lost their homes and pets. I was lucky to find my place back intact," said Dewar.
In 2012, an LBUSD Disaster Preparedness Committee was established to deal with various emergencies, including fires, earthquakes and other crises. The committee meets regularly to review current protocols and safety plans. There are annual fire and evacuation drills, a major one being California's Great ShakeOut earthquake drill, partnered with the local fire department that is invited to observe and lend professional advice.
"We do shakeout drills every year, and sometimes it's hard to take them seriously since they are so routine. But fires are a reality in Laguna Beach. We live in a desert, and fires can start anywhere. We all need to make sure that in case of a fire, especially at school, we are all prepared," said junior Tommy Kennedy.
One upside to the fire was a major improvement in emergency preparedness laws. Since the fire, residents are not allowed to live in homes with shake shingle roofs, and the water district has built two more reservoirs and backup generators. Now, City Hall is prepared with numerous disaster simulations. Members of the Laguna Beach community have made an effort to take initiative in making our town as safe as it can be.
"I felt a great sense of community. People at the school went to the shelter and took care of each other. Everyone was very supportive. When I came back home, I felt so lucky to live here. The police, firemen and community members are amazingly connected," said Dewar.
Living in California with its agreeable weather makes it easy to forget that natural disasters like floods, fires and landslides exist. However, we as a community have to realize that Laguna Beach is not immune from such calamities. The best thing that we can do is prepare for the worst.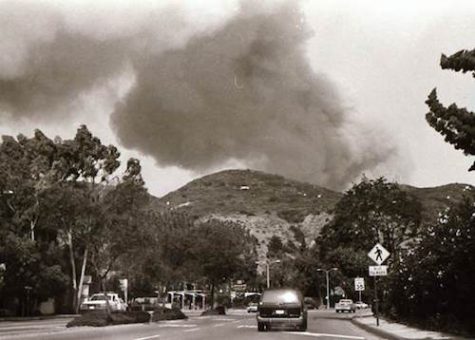 Douglas Miller