Students take rigorous steps towards college career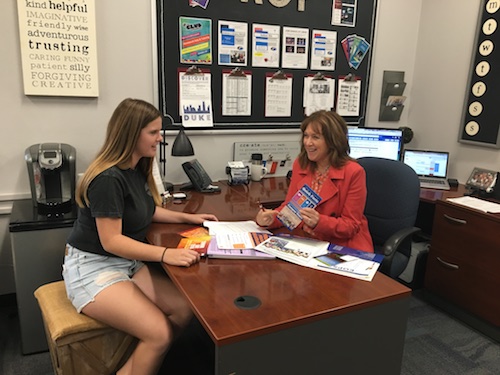 Current high school students are opening their horizons by taking college courses and discovering new career opportunities that they haven't thought of before.
"Community college classes not only allow an outlet for kids to pursue something that school may not offer, but also the opportunity to feel more comfortable with the idea of going to college," said sophomore Saejah Barrack.
Classes can range from foreign languages to psychology along with Career Technical Ed. (CCTE).
"What's great about the community college system is that I can pursue different classes not offered at LBHS and receive college credit for them, so since the high school doesn't offer a Japanese course, I was thrilled to learn that Irvine Valley College does," said senior Marisa Schatz. "I took Japanese I over the summer, and I'm currently taking Japanese II. It's been a great experience where I've learned a lot. I plan on taking the next Japanese class in the Spring."
Although AP classes and community college classes are similar, community college classes generate a college transcript rather than adding the class to a student's existing high school transcript.
"My biggest caution in the world is that a college transcript stays there, and it never goes away. When you apply to college, you need to send two transcripts to prove you took a community college course. If you take an A through G course at community college, the University of California and the Cal State University system, along with many other private and out of state colleges (individually determined), will generally give it an extra weighting consideration in admissions," said College and Career Specialist Ann Bergen.
AP classes and college classes will have the same potential and risk regarding being approved by college. Not all colleges will accept a particular class; however, certain colleges will give students credits, allowing them to skip to the next level. All colleges, regardless, will see community college and AP classes as rigorous courses.
"I thoroughly enjoyed the psychology class because it taught us about the reactions of humans and how the brain's malfunctions affect the person," said senior Akanksha Shukla.
In order to sign up for these exciting opportunities, students may see Mrs. Bergan or Mrs. Gregory in the College and Career Center to pick up important documents pertaining to the enrollment process.