Rotary Scholars 2016-2017
Hang on for a minute...we're trying to find some more stories you might like.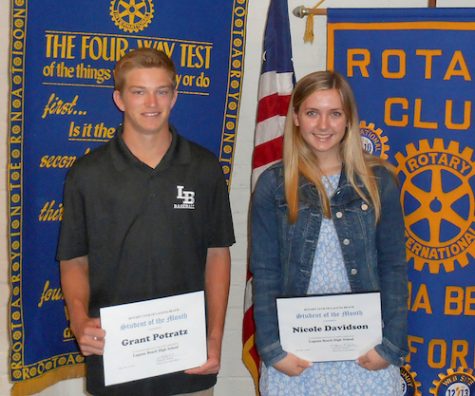 Rick Lang
Grant Portraz and Nicole Davidson
Laguna Rotary Club recognizes two Scholar Athletes from Laguna Beach High School. Nicole Davidson received Most Valuable Player Award as well as Players Award, Coach's Award, Most Improved and three OC All League Awards. She has played Varsity Basketball for four years, breaking five school records as Point Guard. Nicole also played Varsity Tennis for two years. She enjoys coaching 4 th and 5 th grade girl's basketball at the Boys and Girls Club. Nicole plans on attending Cal State Poly at San Luis Obispo studying Agricultural Business. Grant Potratz has excelled in baseball and basketball. He received Coaches Award in Varsity Basketball. Grant enjoys AP Macro Economics and AP Government. He is an avid fisherman in the Fishing Club. Grant plans to attend San Diego State University and major in Business.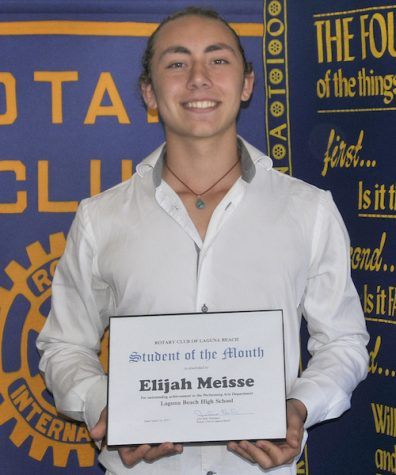 Elijah Meisse
Elijah Meisse was honored by Laguna Beach Rotary Club for Outstanding Performance in Music. He was awarded Principal's Honor Roll, Outstanding Student in Jazz Band and is currently Vice President. Elijah also participates in Marching Band, Drumline plays in the Musical Pit for theater performances all four years at high school. He will be attending University of Michigan, majoring in Performing Arts Technology. Elijah enjoys being "The Guy to Call" when something musical needs to happen.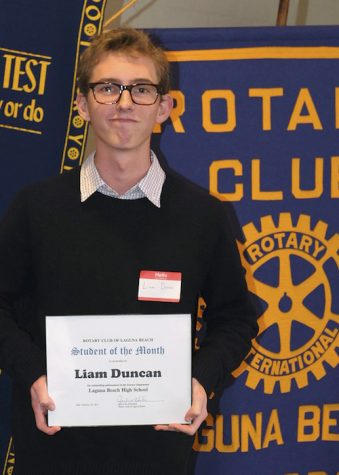 Rick Lang
Liam Duncan
The Laguna Beach Rotary Club recently honored Liam Duncan as Student of the Month for Science at LBHS. Liam activities include Advanced Chemical Research, studying the use of click chemistry to protect medicinal peptides with "peptide backbone". He has received awards for Chemist of the Month, Cross Country Leadership, Track/Field Coach's Award, Biology PRIDE Award and AP European History PRIDE Award. Liam plans to pursue a BS Degree in Biochemistry and a career in Medicine and Research. He enjoys hiking and would like to travel the Pacific Crest Trail.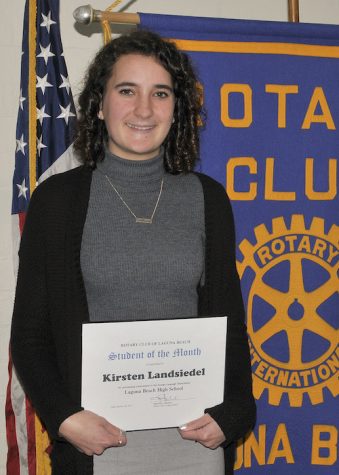 Rick Lang
Kirsten Landsiedel 
Kirsten Landsiedel was honored by the Laguna Rotary Club for her excellence in Foreign Language. She enjoys traveling, music, art history and journalism (Editor-in- Chief of the school paper for 2 years). Kirsten's awards include; OC Scholar-Athlete and OC All-CIF in Cross Country and Track, Best Delegate Model UN at UCSD and LBHS along with Chemist of the Month. She plans on attending a university, majoring in biochemistry and minor in language with future plan of Medical school and work with "Doctors without Borders."
Rick Lang
Katya Cox-Kruger
Laguna Rotary Club recently awarded Katya Cox-Kruger Student of the Month for her achievements in Visual Arts, creating Ceramics inspired by her Russian heritage. Katya was adopted from a Russian Orphanage at age seven. She has also received Excellence Awards in Global Studies and English. Katya is Treasurer for both, Model UN and Sky Clubs as well as coaching basketball at the Boys and Girls Club for past 3 years. She plans on attending either University of Glasgow or Hague in the Netherlands. Katya would like to become an International Business lawyer.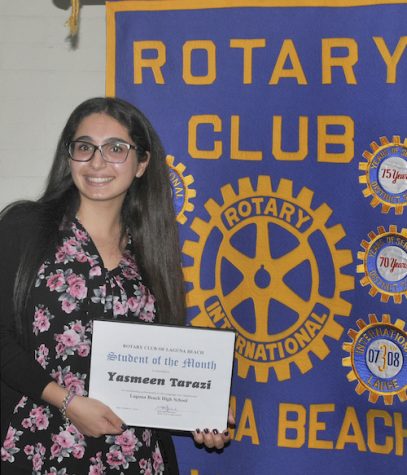 Yasmeen Tarazi
Laguna Rotary Club has honored Yasmeen Tarazi as Student of the Month, representing the English Dept. She is active in Model United Nations (MUN), Dance and Dance fundraising for Orangewood Foundation. Yasmeen has received Pride Awards in English, French 1 and 2. Excellence Award in Dance, ROP Student of Month, and Distinguished Student of the Year ROP. She plans on attending a 4 year university (hopefully UCLA). Future goals include working with UNICEF and study in the field of Humanities and Human Rights.