MUN successfully hosts 5th annual conference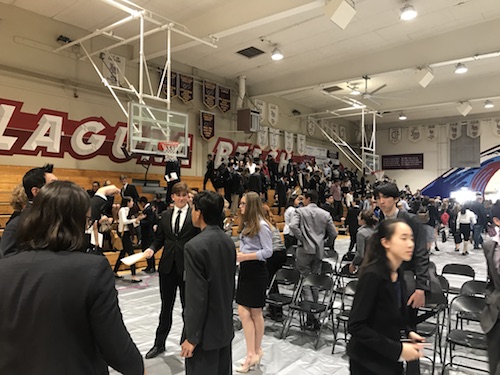 LBHS Model United Nations held their fifth annual invitational conference last Saturday, March 25. Conference Coordinators, juniors Alex Bonnin and Joey Ravenna, as well as Crisis Director senior Billy Renner, worked for Secretaries-General, seniors Madison Sinclair, Claire Black and Olivia Vera, for over seven months to plan the successful event. With a total delegate count of 442, the team held an outstanding conference, complete with fascinating committees, invigorating debate and an entertaining water-balloon fight for the committee that raised the most money for the MUN Foundation.
"Kids came from all over Southern California to attend our conference. All of the hard work we put into coordinating paid off when we saw the level of involvement in the debate, especially in younger delegates. After months of planning, we're all more than pleased with how LBIMUN turned out," said junior Alex Bonnin.
Every Tuesday night, MUN meets to discuss world issues, master speaking and debate techniques, and to prepare for internal debates and upcoming conferences. Under the guidance of advisors Jonathan Todd and Jun Shen, the 66-person team travels to about seven conferences each year, competes within our school delegation for inter-squad awards for the fall and spring semester finals, and prepares for LBIMUN. Although the the class is split into advanced and novice groups, with advanced delegates being those who have been in the class for more than one year, the students bond over their shared interest in developing solutions to the greatest problems facing the world.
"Since I joined MUN, I've gained confidence with public speaking skills, as well as spent time with some good friends. I'm really lucky to be part of such a great program," said Sergeant-at-Arms senior Dexter Russo.
Laguna MUN even has a middle school chapter led by junior Charlie Hoffs, junior Nils Wilson and sophomore Grace Sauers. About 30 kids meet every Wednesday at Thurston for some international relations education. A rarity for most high school conferences, LBIMUN held three middle school committees focused on the following: intelligence gathering and espionage, underdeveloped states' education, and access to medical care in sub-Saharan Africa.
"I'm so impressed by these middle-schoolers. They've made great strides and swept the awards in committee. Good for them! Go TMS Waveriders!" said Wilson.
Conference Coordinators have been working since their selection in June to prepare for March 25. They worked with the Secretaries-General to select diases, order catering from Baja Fresh, meet with administrators to approve facilities, organize synopses and register schools for attendance.
"Everyone worked so hard to make LBIMUN happen. I speak for all leadership of our pride for what our entire delegation has accomplished, especially our Conference Coordinators. They sacrificed huge amounts of time to put together all of the moving parts. It is crazy to think that we've grown from 40 delegates in 2013 to nearly 500 this year," said Vera.
Most delegations came from Orange County and San Diego County. El Toro brought the largest delegation with 61 students, followed by Mission Viejo High School at 53. To accommodate all of these delegates, LBIMUN held committees in the history wing, the English wing, classrooms in the quad and in the library. The Dugger Gym hosted opening and closing ceremonies.
"We had all hands on deck, meaning every single delegate in our MUN program worked on staff this year," said Ravenna. "Accommodating such a large group of delegates to participate in our conference was certainly challenging, but with the help of everyone on our team, we handled crises well and the day seemed to be a positive experience for everyone."
MUN Committees are divided by category, such as the General Assembly, the World Health Organization, and specialized or historical summits, like Obama's Cabinet. Crisis committees maintain a constant sense of urgency as conference staff is behind closed doors persistently developing new problems delegates will need to respond to as each is solved. Every committee has distinct powers, whether they be to impose sanctions, declare war or write resolutions. They are then separated by topic, or the problem that the committee attempts to solve.
"I was in charge of crisis in the Cold War committees. We had to come up with our own history for delegates to react to. My knowledge of the Russian language proved extremely entertaining and added a spark of creativity to the conference," said sophomore David Berger. "The participants were impressed by our dedication and preparedness and authenticity."
LBIMUN topics ranged from a fantasy crisis council based on the television show The Walking Dead to a historical NATO committee debating the 1999 Kosovo War. Every delegate was able to find a topic he or she was interested in because of the broad span of topics. Most members of LBIMUN had a job as conference staff—whether they were delivering crisis notes, setting up registration and the bake sale or actually chairing the committees.
"LBIMUN was a huge success. I'm so proud of everyone for quickly overcoming each small obstacle. While there are certainly areas to improve upon, I'm confident that next year will be even better," said Vera.
The conference also raised $357 for the MUN Foundation. Through donation boxes, delegates were able to donate money throughout the conference. The committee with the most money raised was able to water-balloon their chair. This year, the Foundation is working to provide a clean water source for the Maasai Village in Kenya.
"It is so rewarding to support development and progress for human rights around the world with the help of my friends and fellow delegates. I'm so proud of our accomplishments and teamwork," said co-president junior Ella Steinbach.
Winding down, the MUN program has a few remaining events. The team will travel to Claremont McKenna on April 8-9 and Whitney High School in Cerritos on May 20 for their last two conferences. Their spring semester final will be an Inter-squad, a committee that takes place between Laguna's own delegates over three MUN classes. Leadership for next year will be selected in May by current Secretaries-General and advisors. Soon enough, the team will be planning for LBIMUN 2018.
"I think the conference went really well. I'm really proud of how hard the Secretary-Generals and Conference Coordinators worked. It was great to see all of our delegates as chairs running a very professional conference. Everybody did a great job, and the future looks very bright for our program," said Todd.