Surfer wins first in longboard and short board competition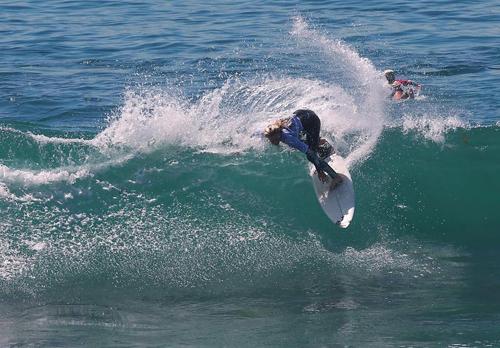 Hang on for a minute...we're trying to find some more stories you might like.
On Nov. 8 at Trestles Beach, San Clemente, sophomore Kayla Coscino won first place in both longboard and shortboard events in Individual League Finals. After weeks of training, she earned her first title and achieved a Laguna Beach High School record.
"I work really hard, and this was the biggest contest of the school season, so I really wanted to win shortboard. I don't normally longboard in contests, so I wasn't sure about it, but was really excited to win against the tough competition," said Coscino.
In order to reach the skill needed to perform at this level, Coscino had to practice for hours every week. Often surfing more than 12 hours a week, Coscino is in the water almost every day.
"Surfing is a difficult sport, and there are many good surfers, but I hope I can compete on the World Tour 9, the highest level of competition, for at least one year in the future," said Coscino.
Coscino has been surfing for around four years. She has loved surfing from a young age, but she started going to contests in middle school.
"Both of my parents would take my brothers and I to the beach a lot, and they taught us how to surf. In middle school, I asked for a wetsuit for a birthday present, and I started longboarding once or twice a week with my dad. I fell in love with it, and I started doing contests. I love being competitive, and I love the competitive environment," said Coscino
Surfing is a fairly new passion, but her history with the sport goes far into her childhood. Both of her parents have a passion for the beach, a love that has been instilled in Coscino from the beginning.
Unlike many other sports, surfing is dependent upon finesse.  It is a sport that not only takes a lot of strength and muscle control, but also a lot of concentration.
"Her strongest asset is definitely her desire to continue to improve. Kayla's surfing continues to evolve. She surfs with a lot of power and has great technique," said surf coach Scott Finn.  
Coscino is the first surfer in the South Coast League, and in school history, that has achieved first in both shortboard and longboard competitions.
"It is not often that one of our girls wins first in the county. In past years, we have had a girl finish first in girls shortboard, but Kayla has been able to achieve so much  because of her extreme focus and determination. I know that Kayla also receives a lot of support from her parents, and I know that is very important," said Finn.
Other than being her sport, surfing is also one of her favorite hobbies. Regardless of whether she's preparing for competition or waiting for the next set with friends, Coscino enjoys every minute in the water.
"Kayla competes in a variety of different surfing competitions, and I often see her practicing on her own," said Finn.
Coscino always works hard and has become a good example to teammates that perseverance really does pay off in the long run.
"She seems like a great performer. Whenever she's out in the water, she has a good attitude and mentality," said junior surf team member Hunter Johnson.
Coscino's skill is remarkable, and it is evident that she has a future in surfing. Her family, friends and fellow Breakers are all excited to see what amazing things she will achieve.
"I love being out in the water and surfing. I don't have to think about anything else, and I can just enjoy the moment," said Coscino.