Cross country prepares for upcoming season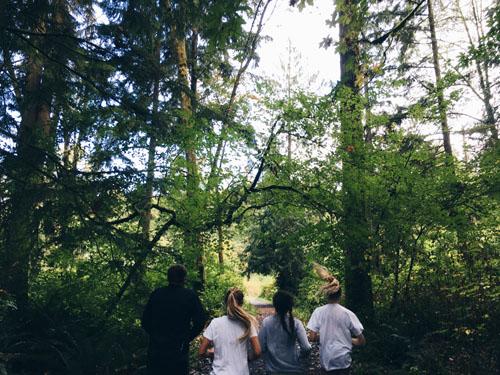 On Saturday, Sept. 17, the girls cross country team traveled to Seattle in order to compete. The girls raced a 5k (3.2 miles) at  the UW Sundodger meet at the University of Washington, Seattle, placing 4th place overall in their division. Laguna's top three finishers in the 5k included junior Evie Cant with a time of 19:35, senior Ana Kelly with a time of 19:46, and junior Grace LaMontagne with a time of 20:01.
"I am very happy with the results, and the girls ran tough. We have a great team this season. Several runners stand out, and I feel they are capable of achieving a high level of success," said girls cross country and track coach Steve Lalim.
Every year the cross country teams travels across the country to train and compete in a different region. Although the team's primary reason for traveling remains running, the trips are also a great way for the athletes to bond. In addition to running while in Seattle, the girls attended a University of Washington football game — go Dawgs!— and a fish market.
"Traveling is a fun way to bond as a team and compete against some different competition. We want to give the kids an unique experience and create a lot of positive memories," said Lalim.
A common misconception regarding the cross country is the team aspect. Though it may seem like an individual sport where everyone is running for his or her own personal best, cross country is a team sport. The top five varsity runners run and score for their team. The sixth and seventh runners on the varsity team run to displace other teams, especially if the scores are close. Also, just like all other team sports, team bonding plays a huge role in the experience.
"I definitely feel as if we are more focused on being a team instead of just the running. This year, we try to get the team together for 'Team Tuesday.' We do a fun activity as a way to make everyone feel included," said team captain Sabrina Flagstad.
"This season it would be awesome to get a new personal record but, more so, I really want to focus on the team aspect of this sport. I hope to become even closer to all my teammates, Varsity and JV," said team captain Ana Kelly.
Cross country has a total of four team captains this year: Ellie Glade, Ana Kelly, Grace LaMontagne and Sabrina Flagstad. The team captains are responsible for encouraging, motivating and providing sound advice to the other girls on the team.
"Collectively, I think we have an amazing team this year! We've been pretty successful with our times, but more importantly the dynamic is just really good. We've become so close, and we all push each other and bring out the best in each other. We have so much fun! My favorite aspect of leadership is that it pushes me out of my own comfort zone. There are so many days when I'm stressed out, exhausted or feeling negative about our workout. But being a leader reminds me that I have to be an example and pull myself together and be positive. I also love cheering my teammates on and getting to know all the girls on my team, especially the new freshmen," said senior and team captain Ellie Glade.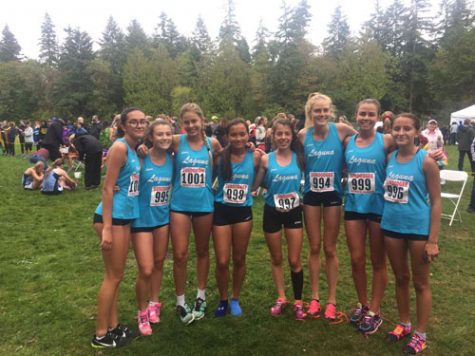 Running a new personal record is the goal for most runners; however, for the varsity runners, going to CIF and qualifying for the State meet provides a constant goal to work towards. The State meet is the biggest, most competitive and intense meet one in cross country may ever experience, and making it to the podium remains the greatest honor.
"Coming from an injury, I, personally, want to get my time back down to where it was my sophomore year. As for the rest of the team, I want everyone to stay strong and positive on the road to the State meet," said LaMontagne.
Not only does cross country demand a great amount of physical strength and energy; it also requires mental toughness. The ability to stomach a workout of 25×400 meters takes more than the athletic ability. It requires a willing attitude.
"Honestly, I wouldn't be able to do this without my team. Running is so difficult, but it definitely helps to have people by your side who you know are experiencing the same pain as you are," said Flagstad.