Then And Now: The Center Spread
The first article was posted in the June 1999 issue of the Brush & Palette. The second was posted in the May 2018 issue of the Brush & Palette. In this article, the Brush & Palette explores the issues which affected our school 20 years ago, and still affect our school today.
Hang on for a minute...we're trying to find some more stories you might like.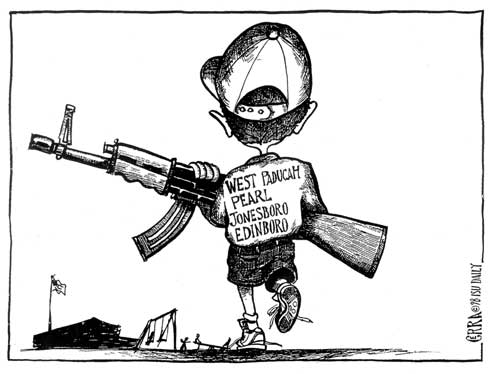 Column: The Aftermath of Columbine
By: Amanda Dippel
Tho those who haven't turned in a T.V. or picked
 up a newspaper or magazine in the past three months, on April 20 199 America took a great step backwards. Two juniors from Columbine High School in Colorado went on 
a six hour shooting and bombing rampage in their school.
The two boys killed 15 people and injured more before taking their own lives.  THe two teenage boys claimed that they hated the way they were treated by their fellow classmates and this was their revenge. At approximately 11:19 a.m., Dylan Klebold and Eric Harris, dressed in trench coats, began shooting fellow students outside Columbine High School, located in a suburb south of Denver. The pair then moved inside the school.
In the aftermath of the shootings, many schools across America enacted "zero-tolerance" rules regarding disruptive behavior and threats of violence from students. Columbine High School reopened in the fall of 1999, but the massacre left a scar on the Littleton community.
Mark Manes, the man who sold a gun to Harris and bought him 100 rounds of ammunition the day before the murders, was sentenced to six years in prison. Another man, Philip Dura
n, who introduced Harris and Klebold too Means, also was sentenced to prison time.
Some victims and families of people killed or injured filed suit against the school and the police; most of these suits were later dismissed in court.
I wish I could be more hopeful, but we live in a world that revolves around money, sex, and greed. So the question we should actually be asking ourselves is why do we crave explicit sec and violce in so many aspects of our lives? Let's make sure the future of the world does not head down the same path we are.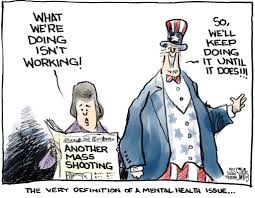 Gun Violence
By: Sidney Koziarz
Feb. 14 was a day that made a mark on American history. From that day on, students all across America began speaking their minds about gun control. It was the day that Nikolas Cruz, 19, took the lives of 17 innocent people at Marjory Stoneman High School in Parkland, Florida. Students across the country are utilizing social media to band together, calling for students and teachers alike to participate in one, or many, walkouts in the last months of the school year.  
Last Wednesday, March 14, at 10 a.m. there was a 17-minute, widely-publicized nationwide school walkout that allowed students to show their common concern for the lives lost in Florida and to demonstrate their solidarity regarding the demand for greater gun control.  Accordingly, Laguna Beach administration adjusted the high school students' break schedule not only to allow students 17 minutes to express their feelings and concerns pertaining to gun violence, but also to minimize disruption to their academic day.
"We are not facilitating one message or belief over another; rather, we are creating a safe space for all students during a time when they may wish to explore and exercise their right to free speech through a student-initiated event. We would like all students to remain on campus and not miss their educational day. Those who choose to leave campus or not return to class after the break are subject to a period truancy," said superintendent Dr. Jason Viloria. "LBUSD respects students' First Amendment right, under federal and state law, to freedom of speech in the school environment. The March 14 event is entirely student-driven and voluntary.  It is not sponsored by LBUSD or our schools."
Due to California State Legislature, the school must remain non-partisan, meaning school administration and faculty cannot outwardly protest or claim a political belief. Instead of turning a blind eye to students walking off campus and giving them a truancy, the school arranged to have four boards on display, each accompanied by pens, post-it notes and a student counselor. Counselor Angela Pilon supervised a poster concerning school safety, student support specialist Alex Aronson oversaw a poster about a sense of belongingness and acceptance, counselor Jeanne Brown stood post near a poster about remembrance of victims and families, and counselor Nichole Rosa accompanied the social responsibilities poster board.
"We wanted to take time to have meaningful conversations and provide support to students who felt compelled to express their opinion on gun control and safety and well-being at schools. We are here to support and listen to concerns and to talk through them. We take that time to reflect and honor the victims of most recent tragedies but also to provide dialogue and clarity as young adults aim to make a difference and express themselves," said principal Dr. Jason Allemann.
Despite the school's positive intentions, some students felt like the structure of the event denied an opportunity to protest and find empowerment through a solidarity movement. To them, the consequences for not coming to school or leaving campus were miniscule