Water polo players' commitment pays off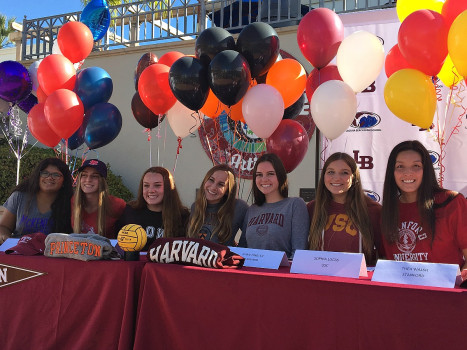 Hang on for a minute...we're trying to find some more stories you might like.
On Nov. 8, the reigning CIF champions gathered in the quad to shatter yet another record. This year marks the most Girls Water Polo players ever to sign to colleges. The seven outstanding athletes who have committed themselves will attend Stanford, USC, Harvard, Princeton, Brown, Fresno State and McKendree State. All of them were accepted by one of their top choices, if not their first.
"It feels amazing to finally feel like all of the work and time we have put in has finally paid off," said senior Evan Tingler, who will be attending at Harvard in the fall.
The dedication of the water polo players goes unmatched. From waking up at 5 a.m. and returning to the pool at sunset, they practice over 20 hours a week. Yet, their passion for the sport continues to push them to victory.
"We get three weeks off in August, but somehow I still come back to the pool for extra swimming!" said senior Isabel Riches, who will compete at Brown next year.
The girls agree that they could not have done it without each other.  
"Everyone is always so close and pushing each other to achieve their goals," said future Trojan Sophia Lucas. "They have gotten me through the worst practices and have been there in the best."
Their shared experience has united the players inside and outside of the pool.
"We truly are a family and have each other's backs," said Tingler. "No one cares who gets the credit as long as we are playing well and scoring."
Through true hard work and perseverance, these athletes have gained the recognition they deserve, and signing day was a chance to celebrate their success.
"It was so thoughtful for Lance Neal and the high school to recognize me and my teammates on signing day. We never could have expected such a nice ceremony," said Thea Walsh, who will be blocking shots as a goalie for Stanford next year.
This program has produced multiple Olympic athletes  in the past. Although many star players will be leaving, the Breakers are not worried. Last year, the girls Water Polo team for 10, 12, and 14 year olds all won gold in the Junior Olympics for their age division.
"I believe that the team has played great during my time here, and I know the freshmen, sophomores, and juniors will keep up the standard when we leave," said Danielle Borelli, who will attend McKendree University in the fall.
Everyone on the water polo team has watched these stellar athletes work and train to get where they are today.
"They've put a ton of work in to get here. It's great to see their hard work pay off," said head coach Ethan Damato.
Whether athletically or academically, the players have set their sights high.
"After Brown, I plan on attending medical school and becoming a doctor," said Riches.
The players' unwavering motivation is just one of many reasons for the team's success.
"We always played our hardest, and we don't back down from a challenge!" said Kyla Whitelock, who will compete at Fresno State.
The seniors will carry this mentality into their final high school season and hopefully come out on top.
"It's a really great feeling to have some recognition for all of the work we have put in," said Alana Evans, who is headed to Princeton in the fall. "I am really proud of my teammates and myself for committing to such amazing schools!"