Journalism's Brush and Palette Concert brings musical talent to LBHS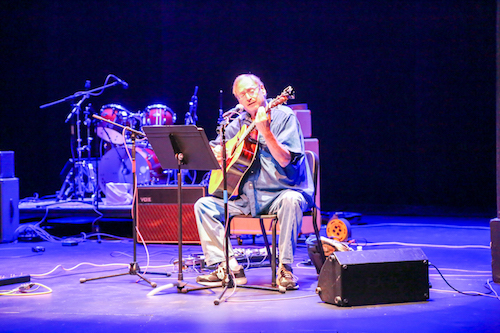 Hang on for a minute...we're trying to find some more stories you might like.
On Friday, Sept. 29, Brush and Palette held its 7th Annual concert to raise money for the upcoming production of the first paper of the year. While student performers showcased their musical talents in the Artists Theatre, Brush and Palette staff raised money selling tickets and refreshments at the door.
"I enjoy singing opera, theatre and jazz. Performing makes me feel free and vulnerable at the same time in my own element," said Seryne Aryeh, an LBHS senior.
Yuika Egan, a junior at LBHS, helped organize the fundraiser.
"Being new to journalism, I was scared at first of the idea of being responsible for organizing a whole concert. I learned a lot though from a past journalism student," said Egan, who has stepped immediately into a leadership role on staff.
Junior Addie Briggs has performed at this event for two years and sang "Paris" and "Little Black Submarine."
"I have played in a decent amount of Shap Shows and benefit Concerts here at LBHS. It is a lot of fun, and I don't really get nervous but I enjoy being on stage," said Briggs.
Junior Rylee Bullington performed "Like a Stone."
"At first when I am performing in front of an audience, I get nervous but as soon as I start to sing, it all fades away immediately," said Bullington.
Another performer, junior Chloe Bryan, performed a song by Fenne Lily as well as an original.
"I enjoy performing in front of people, and I feel supported by my peers and know that they are all supporting me and are not making fun of me," said Bryan.  "I also think Shapiro's commitment and support he has for the students is admirable," said Bryan of retired math teacher Gary "Shap" Shapiro, who has honored the journalism class by taking the stage at the event as a yearly tradition.
"I enjoy performing at LBHS (especially since I have retired). I love the theater as well as on stage. It is a wonderful venue. I love to see the performers and what they have to offer. Laguna Beach has always had first rate talent," said Shap.
Malin Glade sang "Carry on My Wayward Son." She has performed at the Brush and Palette event for the last three years.
"I have been in many school plays and concerts such as the Brush and Palette and the Shap show. Performing in front of an audience is exciting," said Glade, "and I get nervous, as well."
Senior Zoe Bowman is a member of the journalism staff who lent extra support to her class as one of the night's performers.  She performed "Oh Darling," by The Beatles, with Chloe Bryan as accompaniment.  
"I have been doing drama since 7th grade, so I have had time and practice to not freak out on stage. I have also done chorus since 8th grade, which has helped me figure out my voice," said Bowman.  
Sasha Kvitsinski, one of this year's editors-in-chief of Brush and Palette, invited a Woodbridge High School band, Sundive, to perform.
"I have been great friends with Sundive and thought that they are really good performers, and they are super chill," said Kvitsinski.
The Brush and Palette annual concert was once again an enjoyable event to watch with the high level of musical talent.
"While I really enjoyed the performances, I am most proud of my student organizers.  The behind-the-scenes efforts and preparation help us maintain this yearly event that has become a part of our school's culture," said journalism teacher Jim Brusky.  "I am lucky to work with such a special group of kids in journalism each year."