Put down the phone-save a life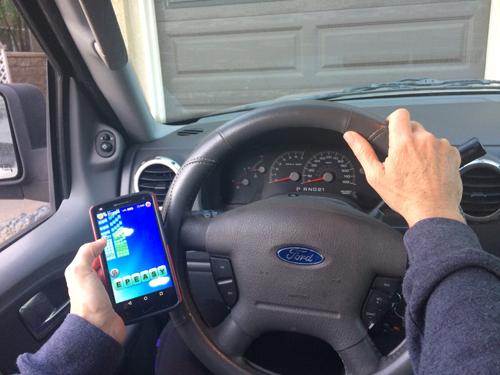 Hang on for a minute...we're trying to find some more stories you might like.
An accident is an unfortunate incident that happens unexpectedly and unintentionally—a mishap, a mistake.
No words accurately describe the feeling of thinking you may have been responsible for the death of another person. Unfortunately, I know what this feels like. About a month ago, I was hit by a distracted driver while I was on my way home from school. For the longest time I had convinced myself that the collision was my fault, that I must have been looking at my phone or spacing out, even though I knew none of this was true. The way the impact happened, I hit the other driver. I realize now it was not my fault. I was only traumatized into thinking so. They had a stop sign, and I didn't; I had the right of way.
Why am I still hung up on it? Why can't I let it go? Well, I still think about it every day. The vivid images in my head still scare me. I keep thinking about the "what ifs" instead of the facts. When I first got out of my car after the impact, I looked over at the other car, and my initial thought was "they're all dead." I couldn't get the thought out of my head that I had possibly killed a mother and her three kids.
That is the part that still resonates with me—all of the small "what ifs." What if I was going 10mph faster? What if I hadn't tried to brake? What if I was on my phone? I have no doubt that if I were doing any one of those things, at least one person in that accident would have died.
After an accident, you have to talk to both parties' insurance companies, and you're forced to retell every detail of the accident. If you mess up just one tiny detail, the blame could be placed on you. That alone is traumatizing enough, because no matter how much you want to forget what happened and move on, you then receive a phone call and are forced to relive it again.
My point of all this is that driving with distractions in your car puts you at a higher risk of being in a car accident. As a generation that has grown up with technology, we find it hard to separate ourselves from our screens in order to ensure our safety. But what's more important, your life or your phone?
People often don't think bad things can happen to them. But the truth is that just by getting in your car, you are automatically putting yourself at risk. You could be the most cautious driver in the world, but all it takes is someone reckless to take his eyes off the road for a split second, and the next thing you know, you could both be headed to the hospital.
I challenge you to drive completely free of distractions the next time you go somewhere. Put down your phone, turn down the music and stay alert. Don't be responsible for the death of someone else just because you had to see what your friend sent you on SnapChat. Trust me—it can wait.