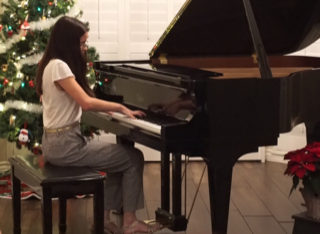 Claire Tigner
Years Playing Piano: 11
Claire Tigner
Q: What got you interested in playing piano?
A: I've always loved to listen and sing along to music, so when I was little, I asked my parents if I could learn how to play the piano. My parents agreed, and they signed me up for a group piano lesson with a whole bunch of other little kids and about 12 electric keyboards. Although I'm sure the class, myself included, sounded far from perfect, I had the time of my life playing music. I've played piano ever since.
Q: Do you play any instruments besides piano?
A: In addition to piano, I play the clarinet, bass clarinet, oboe, marimba, and I sing.
Jordan Sieta (Claire's Friend)
Q: What can you say about Claire as a person beyond her piano playing skills?
A: Claire works hard at everything she does. She is smart and talented, but more importantly, she is an amazing person whom I am so grateful to have as a friend.