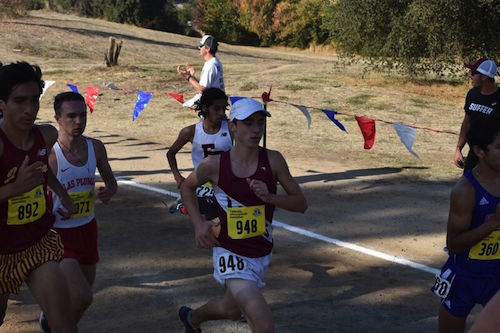 Ryan Smithers: An all-state cross country star
Q&A with Ryan Smithers
Junior Ryan Smithers came to cross country as a first time runner, and soon assumed the role as the teams number one runner. Though Smithers had run track his sophomore year, until this year his primary focus had been on soccer.
Smithers 2017 Cross Country Statistics:
Three mile PR (personal record): 15:28
5k PR (personal record): 16:05
Fun Fact about Smithers: "The key to my heart is a back massage."
Q: Since you've only been running for about a year, what about this sport has surprised you?
A: "I'm surprised with the success I've been able to have."
Q: What would you say you have learned from cross country?
A: "I've learned to handle pain and the feelings of being overwhelmed."
Q: How did it feel to compete at State your first year?
A: "It felt like everything we've done was paying off (by going to state)."
Q: Who inspires you? (can be someone who isn't a runner as well)
A: "Elon Musk inspires me."
Q: How did it feel to receive an all-state title?
A: "Getting an All-State title has been a wake up call to me that it's possible I could aspire to run in college."
Q: Favorite memory of the season?
A: "Being at the beach with everybody in Hawaii and having us come in first, second and third at Godinez."
Q: Favorite workout?
A: "Progression runs—they were a huge challenge to me in the beginning of my season and helped me get faster."
Q: Least favorite workout?
A: "400s."
Q: What do you usually do to prepare for a race (routine, food, etc.)?
A: "Eating Carbs and protein (spaghetti and meatballs) 2 days before the race, Icing my leg, getting 7-8 hours of sleep, mentally preparing myself."
Q: Favorite uniform?
A: "Red with a white stripe coming across (we wore it in Hawaii and at State)."
Q: Favorite race of the year?
A: "League finals, it was so satisfying when our team went 1,2,3 in the race and beat the defending champions Godinez."
Q: What are some of your goals looking forward?
A: "One of my goals is to break the school record next year."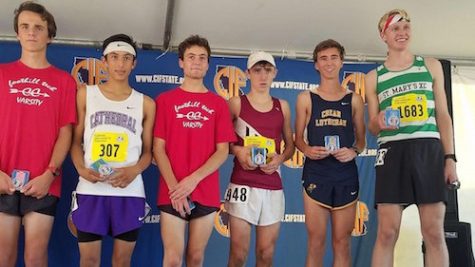 (Photo by Andrew Turner)
Above: Smithers on the podium at the CIF State meet as he receives All-State honors.