Pep rally fun at LBHS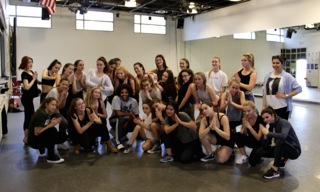 The pep rallies at LBHS bring out school spirit before the dances. This year, however, that has changed. Our winter formal pep rally will take place the week after formal.
"Due to time constraints with finals and having to book dance venues 1-2 years in advance, we could not control this situation," said Yvette Kelly ASB teacher and cheer coach.
Though this year's pep assembly is after the dance, there will be no less enthusiasm or participation during formal. With all the entertainment ASB is bringing in, it should be an exciting time.
"We'll have cheerleaders, dancers, band members, winter sports representatives, class competitions and more," said Kelly.
This winter formal theme is Disney. The theme isn't even the best thing about it.
"I love the energy and excitement of having the entire school together at one time," said Kelly.
This year, the dance company will perform in conjunction with Dance 3. They will be putting on a Jazz-Funk number- a hybrid of jazz and hip-hop styles.
"Pep rallies provide a chance to raise awareness about a dance. They are also a fun avenue for dancers to show school spirit! This particular pep rally dance performance raises the bar because it includes two classes of approximately 40 dancers total, it is performed in a round construction so the dancers face all sides of the gym and the routine is choreographed by a talented guest choreographer. The dancers are excited to introduce these new elements and showcase all of their hard work," said dance teacher Estee Carrizosa.
This year's dance company and Dance 3 students are being taught new choreography by Michael Munday, a professional dancer based in Los Angeles. They are all very thrilled to have him for this occasion.
"He is signed with Go 2 Talent Agency, and he has performed with Taylor Swift in the VMA's, appeared on Glee and has a role in Peter Pan Live. Recently, he danced in the 87th Annual Academy Awards," said Carrizosa.
This pep assembly should be amazing, and LBHS kids can't wait to go.
"I am excited to see what the school has to show, from the entertainment to the way all the classes interact," said freshman Natalie Musetti.