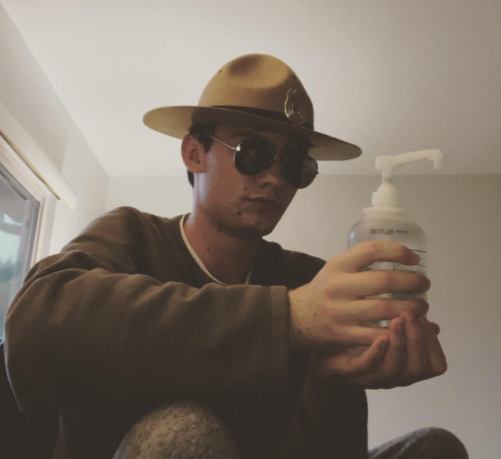 Luke Yates is a graduating senior from LBHS this year! Despite not being able to partake in typical senior activities (due to Covid-19), Luke still keeps his head high. Although it is a bummer that senior year cannot be properly enjoyed, he views high school as just a chapter of his life. Luke spends his time looking forward to the future rather than to brood about the present circumstances.
Luke's high school experience was unconventional. He had moved schools every year and returned back to LBHS this year after leaving his freshman year.  Although moving is tough, Luke has learned to be adaptable in new environments and has improved his social skills as well. Along his journey, he had the opportunity to study abroad junior year in the Czech Republic where he experienced culture unlike our own here in southern California. He discovered a new hobby in the Czech Republic– creative writing– after taking a poetry and lyric class.
Junior year also had more to offer. Luke turned his 1.8 GPA to a 4.0 GPA in just one school year and has kept that GPA since.
"Sometimes it gets worse before it gets better. High school is a struggle for a lot of people, but it's temporary. Difficult classes, social drama, and all other public education induced stress is challenging, but try not to forget you have a whole lifetime ahead of you. Keep your efforts up, your head high, and try to enjoy it while it lasts," said Yates, giving his advice for those going through high school.
Luke is planning on attending a community college in Seattle and is thinking of majoring in engineering. He wants to spend two years in community college and then transfer to a university for another two years.