Season One Of Star Trek (2/10)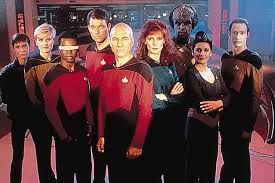 It's pretty bad for the first season of Star Trek. Don't get me wrong it is better than the first seasons of most shows but that is not really saying much since most television is garbage anyway. Everything almost works: Captain Picard is almost a great character but is just a little too mean and stubborn to his crew, the plots are almost interesting but end up being ridiculous and cringe-worthy, Riker's face almost works but something is missing… That's what this season feels like to me – an incomplete version of the actual show. There were some good episodes like "Datalore" but most of them were pretty mediocre and some of them were just horrible. "The Naked Now", "Justice" and of course the racist "Code of Honor" are some of the worst episodes in the entire franchise and are just disgusting. 
Ultimately the season is not really worth rewatching. I mean, I if I were to rewatch this show I would see maybe like 4 or 5 episodes in the season just to get better context for recurring characters that appear later in the show (like Q) and plot elements in general. I give this season a 2/10.