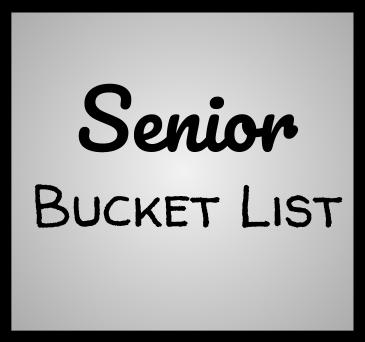 Some sentimental, some serious, others hilarious. Seniors contribute a variety of items from their bucket lists.
Complete the epic victory royale
Cure cancer
Save someone's life
Take a glass blowing class
Vote in an election
Forgive someone
Grow old with someone
Have a pen pal
Rescue animals from a kill shelter
Walk on hot coals
Take in a stray – either a pet or someone who needs somewhere to stay
Donate 6 figures all at once
Buy a submarine
Learn Jiu Jitsu
Make and stick to a fitness routine
Experience zero gravity
Go to Brazil during Carnival & New Orleans during Mardis Gras
Invent something
Learn to change a tire
Teach a dog how to shake
Break a window on purpose
Own an art gallery
Make an album
Donate to schools
Sleep for 24 hours
Have a baby or a puppy
Win a sword fight
Outrun a hippo
Tell everyone I love that I love them
Gain more confidence
Benchpress 225
Study abroad
Figure out my major
Defeat the ender dragon in Minecraft
See a concert at Red Rocks
Learn to play guitar
Teach my kids to surf
Live in San Francisco
Become a police officer
Retire in Hawaii
Go to every continent
Finish minecraft story mode
Be on the bachelor
Go outside my comfort zone
Get student loan debt
Talk about Fight Club
Become Army Ranger and combat medic
Win Swordfish Sword Fight by Ending Him Rightly
Become the Thel' Vadam of the United States Space Force
Learn how to make my own jewelry  
Travel the world
Win a round of minecraft hunger games on mineplex
move to Italy
Go backpacking with friends for a summer
Climb a mountain while dressed as sonic the hedgehog
Sky dive
Write a book
Hit the whoah in Machu Picchu
Go 30 days without cell phone
Recreate the city of detroit in minecraft
Put the horses in the back
Win a raffle
Meet Xi Jinping dressed as winnie the pooh
Not get scared watching a horror movie
Take a picture in front of Notre Dame
Skydive
Backpack and film through iceland
Have a conversation with Elon Musk
Star on Jimmy Fallon's late night show
Grow a couple inches
Make a scientific discovery
Run a marathon
Get a pilot's license
Hug a sloth
Learn to fly
Be the first American on Love Island
Smile every day!
Teach English in Taiwan
Buy and customize a new car
Go scuba diving
Pet a Shark
Cure Fortnite of Small Children Syndrome
Go to the Moon
Make money by being an influencer
Have Rihanna smack me